Traitement d'un terril en combustion par confinement
The Houillères de Lorraine coal fields have to engage works to confine a coal washery spoil heaps which was self-heating for few years. The coal waste (3,5 millions m3 ) was located at the bottom of a great sand quarry. Environmental hazards were due to the harmfull gas emissions, rich in carbon monoxide, during winter thermal inversion. The treatment had been chosen after analysis of the surface temperature by airbone thermographie study and after logging of internal temperatures in boreholes. The tip had been confined under 600 000 m3 of sand mainly extracted directly in the old quarry.
Les Houillères de Bassin de Lorraine ont dû engager d'importants travaux de terrassement pour confiner un terril de schistes de lavoirs de 3,5 millions de m3 en combustion depuis quelques années dans le fond d'une vaste carrière de sable. L'envahissement épisodique de la carrière par des fumerolles à l'odeur acre, chargées en monoxyde de carbone, lors d'inversions thermiques hivernales empêchant toute dispersion naturelle des fumées, a provoqué de sérieuses nuisances environnementales pour le voisinage. Le choix de la méthode de traitement a été réalisé après une analyse des températures de surface du dépôt, par thermographie aéroportée, complétée par une reconnaissance des températures internes en sondages. Le confinement du dépôt sous 600 000 m3 de sables, extraits pour l'essentiel directement sur le site de l'ancienne carrière, a supprimé toutes ces nuisances.
Fichier principal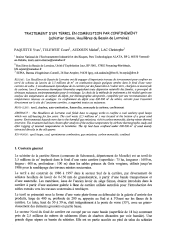 2002-057_post-print.pdf (5.59 Mo)
Télécharger le fichier
Origin : Files produced by the author(s)