Consideration of the background chemical environment in French regulatory health risk assessments : practices and guidelines
Prise en compte du bruit de fond chimique environnemental dans les évaluations réglementaires françaises des risques sanitaires. Quelles pratiques ? Quelles recommandations ?
Consideration of the background chemical environment in French regulatory health risk assessments: Practices and guidelines Quantitative health risk assessments in France are most often conducted as a part of impact studies of industrial facilities and polluted soil management policies. These assessments must take into account the chemical background of the study site, regardless of its origin (natural or human). Characterization of this background and its integration into these regulatory quantitative health risk assessments are left to the risk assessors' judgement. We seek to improve practices by proposing guidelines for this process. Interviews with professionals and bibliographic research permitted us to review the state of the art, to inventory the definitions of the term "background", to examine the reasons and methods for assessing it, and to distinguish the respective responsibilities of assessors, companies, and government authorities. One route to improvement would involve analysing the purpose of considering this background.
En France, des évaluations quantitatives des risques sanitaires (EQRS) sont réaliséesnotamment dans le cadre réglementaire d'études d'impact d'installations classées et degestion des sols pollués. Ces évaluations doivent prendre en compte le bruit de fondchimique des sites étudiés, qu'il soit d'origine naturelle ou anthropique. La caractérisationdu bruit de fond et son mode d'intégration dans ces EQRS réglementaires sont laissés àl'appréciation des évaluateurs de risque. L'objectif de ce travail est de contribuer à une améliorationdes pratiques en proposant un cadrage à cette démarche. Un état de l'art a été menéà partir d'interviews de professionnels et d'une recherche bibliographique. Un inventairedes définitions de l'expression " bruit de fond ", des objectifs de sa prise en compte et despratiques a été réalisé. Ce travail a permis de distinguer les responsabilités respectives desévaluateurs, des industriels, et des autorités. Une piste d'amélioration consisterait à s'interrogera priori sur les objectifs de la prise en compte du bruit de fond.
Fichier principal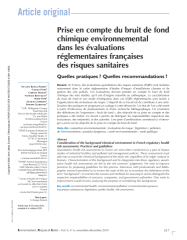 ers-286795-16247.pdf (139.41 Ko)
Télécharger le fichier
Origin : Publisher files allowed on an open archive