Apport de la mécanique des roches pour l'évaluation et la gestion des risques à long terme dans les exploitations minières abandonnées Cas des mines de fer de Lorraine
Due to its historical and economical evolution, we are now facing consequences of the end of mining in large sedimentary basins where it was the major regional activity during the last two Centuries. The contribution of Rock Mechanics in "after-mining" phases emerges nowadays, especially in the fields prediction and prevention of sudden collapses overlying partially mined areas. This paper present the example of closed iron mines in Lorraine (France) where different problems, at different scales have been identified : risk assessment, consequences for town-and-country planning and durable development.
L'évolution historique et économique nous amène aujourd'hui à être confrontés aux conséquences de l'arrêt de l'exploitation de grands bassins miniers, qui a représenté l'activité dominante de certaines régions pendant un ou deux siècles. On commence à discerner ce que devra être aussi le rôle de la Mécanique des Roches pour la phase d'après-exploitation, notamment pour la prévision et la prévention des effondrements inopinés susceptibles de survenir lorsqu'ont été pratiquées des méthodes d'exploitation partielles. Le cas du bassin ferrifère lorrain, présenté dans cet article, illustre particulièrement bien les problèmes identifiés à différentes échelles : analyse et évaluation des risques, méthodes d'intervention avec les préoccupations d'un meilleur aménagement du territoire et d'un développement durable.
Fichier principal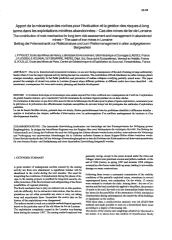 1999-055_hal.pdf (670.8 Ko)
Télécharger le fichier
Origin : Files produced by the author(s)