Effect of subsidence on structures built over old mining works in french iron basin
All mining works can generate strata movements and lead sometimes to serious consequences to structures. This paper presents an original analysis of mining subsidence effects on surface structures. We present in the first part of this paper the results of a numerical model, which allows a global understanding of the structure cracking process. A real subsidence profile was applied at the bottom boundary of a finite element model and soil-structure interaction was studied by introducing a simplified structure at the top of the numerical model. A critical analysis was then carried out with the previous parameters which were supposed to be responsible for rupture. The second part is about the built of a better numerical model. This goal led us to make a synthesis of different countries formulas used to estimate the subsidence parameters such as horizontal strains.
Toute exploitation minière peut engendrer des mouvements du terrain et entraîner des conséquences parfois graves sur les structures. Cet article présente une étude originale des conséquences d'affaissements miniers sur des structures de surface. Nous présentons dans un premier temps les résultats d'une étude numérique qui a permis une compréhension globale du processus de dégradation. Un profil d'affaissement réel a été appliqué à la base du modèle et l'interaction sol-structure a été étudiée en introduisant une structure simplifiée à la surface du modèle. Nous procédé à une interprétation critique des paramètres qui sont supposés être à l'origine des dégradations. La seconde partie traite de l'élaboration d'un modèle numérique amélioré. Cet objectif nous a conduit à réaliser une synthèse de formules provenant de différents pays, permettant l'estimation des paramètres d'affaissements comme les déformations horizontales.
Fichier principal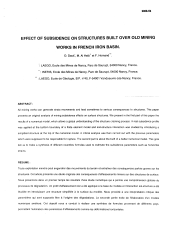 2000-052_hal.pdf (509.83 Ko)
Télécharger le fichier
Origin : Files produced by the author(s)