Maîtrise de l'impact hydraulique, sur le bâti de surface, de l'ennoyage de mines arrêtées du bassin ferrifère lorrain (France)
The cessation of underground mining in the Lorraine iron ore basin and the stop of the dewatering pumping have induced a quick rise of the flooding level in the mine reservoir. In a particular sector, where the outcrops meet the Orne valley, this caused an appreciable rise in the water table in the underlying alluvial deposits related to the river. Then, infiltrations of water into the cellars of some 60 dwelling houses located in the lower part of a town have been observed. In order to control the hydraulic impact on surface buildings of the flooding of underground mine workings, with a view to designing an effective and permanent system, a number of field studies and investigations were carried out. These studies have shown the necessity to create a new overflowing point of the mine water reservoir. For this purpose, inverse modelling of the hydrological system consisting of the mine reservoir, the alluvial deposits aquifer and the Orne river, and a 3D geological modelling of the existing mine workings have been developped. Original and new tools, completed by the inspection of the flooded mine with a remote operated véhicule, in order to illustrate and optimise the installation of the permanent gravity system necessary for lowering the water level in the mine reservoir, have been achieved. They have provided a satisfactory solution either technically or financially, even under the most severe hydrological conditions.
La cessation de l'exploitation minière souterraine dans le bassin ferrifère lorrain et l'arrêt consécutif des pompages d'exhaure ont entraîné une remontée rapide du niveau d'ennoyage du réservoir minier et, dans un secteur particulier de la vallée de l'Orne, une hausse sensible de la cote piézométrique de la nappe alluviale. Des infiltrations d'eau ont alors été observées dans les sous-sols enterrés d'habitations situées en partie basse d'une agglomération. Afin de maîtriser, de façon pérenne, l'impact hydraulique de l'ennoyage des mines sur le bâti de surface, les études ont montré la nécessité de créer un nouveau point de débordement du réservoir minier. A ces fins, un modèle géologique et géométrique 3D, intégrant les ouvrages miniers existants dans le secteur étudié, et une modélisation inverse du système hydrologique " réservoir minier- nappe alluviale- rivière Orne " ont été notamment développés. La mise en oeuvre de ces outils originaux, associée entre autres à une reconnaissance sous eau des ouvrages miniers, a permis de concevoir, d'optimiser l'implantation et de dimensionner un système de captage et d'évacuation gravitaire des eaux de mine pour l'abaissement du niveau d'ennoyage du réservoir.
Fichier principal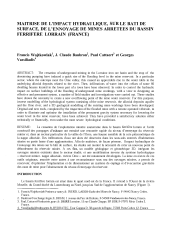 2002-074_hal.pdf (1.17 Mo)
Télécharger le fichier
Origin : Files produced by the author(s)