Etude statistique des affaissements miniers dans le bassin ferrifère lorrain et de leurs conséquences sur le bâti en surface
Recent mining subsidences that took place at the end of the 1990s in the iron-ore field cause building damage and put the emphasis on some problems. In particular, is it possible to estimate building vulnerability which are located on ground which may subside ? To answer this question, a statistical study was performed. The database collects almost 400 observations, and collects data about building damage, building properties and ground movements. Different statistical analysis (scatterplots and multivariate methods) allow some comments on traditional damage prediction methods and to suggest some new improvements.
es récents affaissements miniers qui se sont produits à la fin des années 90 dans le bassin ferrifère lorrain ont été à l'origine d'importantes dégradations du bâti. Il est nécessaire de mieux comprendre les relations entre les mouvements de terrain induits par ces affaissements et les dégradations qu'ils entraînent. Pour ce faire, une base de données a été réalisée répertoriant l'ensemble des structures lorraines endommagées ainsi que les mouvements de terrain à l'origine de leur dégradation. Avec près de 400 individus, plusieurs méthodes statistiques ont été mises en oeuvre, depuis l'analyse des variables deux à deux jusqu'à des analyses multivariables comme l'analyse factorielle discriminante. Les résultats de ces analyses permettent de commenter les méthodes courantes de prévision des dégradations et d'en proposer certaines améliorations.
Fichier principal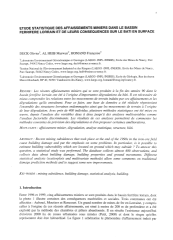 2002-082_hal.pdf (1.35 Mo)
Télécharger le fichier
Origin : Files produced by the author(s)