Spéciation des métaux Pb, Zn, Cd dans les poussières en suspension dans l'air ambiant par extractions chimiques et pae ESEM-EDS automatisé
To evaluate the toxicity, the biodisponibility and the environmental behaviour of metals like Pb, Zn , Cd in ambient air dust, it is necessary to determine the speciation of these elements, i.e their main physico-chemical species. A chemical extraction procedure has been defined and optimized for pure species of Pb, Zn and Cd (sulfate, sulphur, carbonate and oxide).
Pour évaluer la toxicité, la biodisponibilité et le comportement dans l'environnement des métaux Pb, Zn et Cd, il est nécessaire de connaître leur spéciation, c'est à dire de déterminer leurs principales espèces physico-chimiques. Dans ce but, un protocole d'extractions chimiques a été défini et optimisé pour des espèces pures (sulfates, sulfures, carbonates et oxydes).
Fichier principal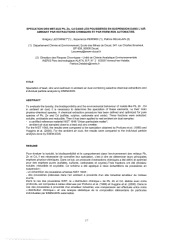 2002-162_hal.pdf (561.52 Ko)
Télécharger le fichier
Origin : Files produced by the author(s)