Influence du temps sur le comportement du gypse
The underground quarry of Grozon gypsum shows instabilities that are a function of the exploitation age. Moreover, the minerals are strongly dissolved in the oldest districts. Concerning the physical properties and instantaneous mechanical behaviour, few differences are to be noted. However the time depended mechanical behaviour from this material is strongly influenced by the hygrometry. The more it is raised, the more deformation rate increase. The acceleration of deformation rate is also for the old working. A Lemaitre like creep law allowed some simulations.
La carrière souterraine de gypse située sur la commune de Grozon (Jura) présente de nombreuses instabilités dont l'ampleur est fonction de l'âge d'exploitation des quartiers. Les minéraux constitutifs sont dissous dans les quartiers les plus âgés, illustration du vieillissement du massif rocheux. Les propriétés physiques et mécaniques instantanées sont peu différentes entre les quartiers. Cependant, le comportement mécanique différé est influencé par l'Hygrométrie dans la carrière : plus celle-ci est élevée, plus les vitesses de déformation augmentent. Ces vitesses de déformation sont également plus rapides pour les quartiers les plus anciens. Enfin, une simulation des résultats des essais de fluage a été tentée en utilisant une loi de comportement du type Lemaitre.
Fichier principal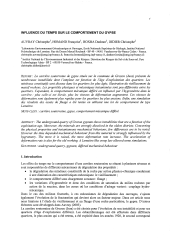 2003-006_hal.pdf (1.29 Mo)
Télécharger le fichier
Origin : Files produced by the author(s)