Devenir à long terme d'exploitation abandonnées de sel en France
Long term evolution of abandoned exploitations of salt is discussed by analysing three basic aspects: geological and hydro-geological contexts of salt deposit, exploitation features (methods, geometries and dimensions) and specific mechanical behaviour of salt under the effect of phenomena such as creep, damage, permeability and fluid interaction in particular brine effect. This discussion is mainly placed in the context of salt exploitations in Lorraine (France) carried out by room and pillar method or by solution mining.
L'évolution à long terme des sites d'exploitation abandonnés de sel est discutée en analysant trois aspects essentiels : les contextes géologique et hydrogéologique du gisement de sel, les caractéristiques de l'exploitation (méthodes, géométries et dimensions) et le comportement spécifique du sel gemme sous l'effet des phénomènes tels que le fluage, l'endommagement, la perméabilité et l'interaction avec les fluides notamment la saumure. Cette discussion est placée en particulier dans le contexte des exploitations de sel de Lorraine (France), réalisées par la méthode des chambres et piliers abandonnés ou par dissolution.
Fichier principal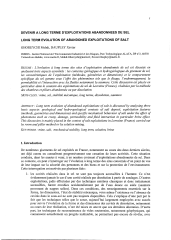 2003-007_hal.pdf (1.57 Mo)
Télécharger le fichier
Origin : Files produced by the author(s)