Mise en sécurité des carrières souterraines
Pillar failure in underground quarries can generate surface subsidence with public safety and environmental implications can be severe. In this context, various preventing and protecting methods such as the backfilling of cavities, should be used to control and to settle the hazards linked to underground quarries. The lines to select the most appropriate solution are the cost of the operation, the technical data (accessibility and stability of the site), the planned land use, the aims of the prevention. This article synthesizes the economical and technical advantages or disadvantages for each preventing or protecting method.
Les manifestations en surface des désordres se produisant dans les carrières souterraines peuvent engendrer de graves conséquences en termes de sécurité publique, de dégâts sur le bâti et d'impacts sur l'environnement. Dans ce contexte, différentes techniques de prévention et de protection, telles que le remblayage des vides, sont alors à mettre en oeuvre pour maîtriser et traiter les risques induits par ces travaux. Le choix entre ces différentes méthodes dépend des conditions générales d'accessibilité et de stabilité du site, de la destination de l'ouvrage souterrain, du niveau de protection souhaité et du coût de l'opération. Cet article présente une synthèse des techniques de traitement des cavités souterraines, en indiquant leurs avantages et leurs inconvénients, autant d'un point de vue technique qu 'économique.
Fichier principal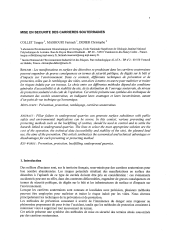 2003-008_hal.pdf (1.19 Mo)
Télécharger le fichier
Origin : Files produced by the author(s)