Emissions gazeuses à partir de vides miniers dans le bassin ferrifère lorrain
A study carried out in the won basin of Lorraine (France) put the spot on the existence of under-oxygenated and noxious gas emissions (carbon dioxyde, radon...) in built-up areas related to former mining works. Site investigations showed that the gas flow was mainly due to natural ventilation mechanisms. A further study is in progress in order to better understand the origin of the atmosphere modification within the old mine workings.
Une étude menée dons le bassin ferrifère lorrain a permis de mettre en évidence des émanations de mélanges gazeux sous-oxygénés et chargés en certains gaz nocifs (dioxyde de carbone, radon...), dans des agglomérations, en relation avec d'anciens travaux miniers souterrains. Les investigations effectuées in situ ont montré que les écoulements gazeux à l'origine de ces émanations sont liées au phénomène de tirage naturel. Une étude est en cours afin d'expliquer l'origine de la modification de la composition de l'air au sein des vieux travaux miniers.
Fichier principal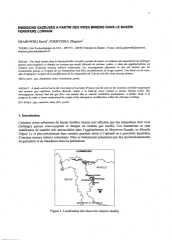 2003-009_hal.pdf (1.03 Mo)
Télécharger le fichier
Origin : Files produced by the author(s)