Paramètres d'affaissement pour la hierarchisation des zones à risque dans le bassin ferrifère lorrain
The consequences of mining collapse on the frame and the infrastructures of surface are directly related to the parameters of subsidence (vertical amplitude, horizontal strain, ..). These parameters are specific to each field even each site. They depend on the nature and the structure of the grounds. In the Lorraine iron-bearing basin, the effects on the surface induced by collapse of mine era by rooms and pillars abandoned are known for 18 cases. The main objective of this research is to determine, by back analysis of subsidence cases due to mining removal of pit props or collapse, the parameters specific to the Lorraine iron-bearing basin in order to use them for the prediction of depressions in zones at the risk of progressive collapse. A comparison of the effects induced by the mining effect with those due to collapses was also carried out. Within the framework of the study, we conform that the cases of subsidence and collapse are very similar. We present, the methodology of back analyzes used to determine subsidence parameters, individually. We describe then, starting from the results obtained, the subsidence parameters of the basin thus determined according to the configuration mining.
Les conséquences d'un effondrement minier sur le bâti et les infrastructures de surface sont directement liées aux paramètres d'affaissement (amplitude, déformation...). Ces paramètres sont propres à chaque bassin minier voire chaque site. Ils dépendent de la nature et de la structure des terrains de recouvrement. Dans le bassin ferrifère lorrain, les effets en surface induits par l'effondrement d'exploitations par chambres et piliers abandonnés sont connus pour 18 cas. L'objectif de cette recherche est de déterminer, par le biais d'une rétro-analyse des cas d'affaissements dus à l'exploitation par dépilage ou d'effondrements miniers, les paramètres propres au bassin ferrifère lorrain afin de les utiliser pour la prédiction des affaissements dans des zones à risque d'effondrement progressif". Une comparaison des effets induits par le dépilage à ceux dus aux effondrements a également été réalisée. Dans le cadre de l'étude, nous avons pu exploiter 18 cas d'affaissement ou d'effondrement. Nous présentons, la méthodologie de rétro-analyse utilisée pour déterminer les paramètres d'affaissement, cas par cas. Nous décrivons ensuite, à partir des résultats obtenus, les paramètres de la cuvette d'affaissement ainsi déterminés en fonction de la configuration de l'exploitation.
Fichier principal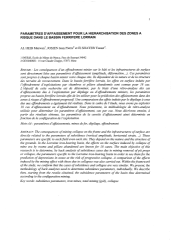 2003-010_hal.pdf (879.92 Ko)
Télécharger le fichier
Origin : Files produced by the author(s)