Stabilité de la surface après l'exploitation totale du charbon et l'arrêt des pompages d'exhaure minière
Coal mines experience in France and in Western Europe for more than 50 years bas shown that the most subsidence (90%) occurs during the extraction of panels. The subsidence is almost stabilised within 2 years by the end of the extraction. Beyond this period, the movements are no longer significant because they can 't be distinguished from the natural ground movements, and can 't be measured though levelling, even of high precision. The increase of water level when pumping is stopped can induce a centimetric rise of ground level, function of works depth, thickness of extracted seam (layer) and increase of the underground water level. The studies of Bekendam and Pôttgens (1985, 2000) and ofFenk (1997) concerning respectively minings in the Netherlands and in Germany highlighted this phenomenon. The observations mode in Lorraine in the sector of Faulquemont, where the works flooding has been stabilised, give similar results (Degas, 2001) (Wojtkowiak, 2001). No consequence on buildings and surface infrastructures due to this phenomenon has been noticed.
L'expérience acquise en France et dans les charbonnages d'Europe occidentale depuis plus de 50 ans montre que l'essentiel de l'affaissement prévu (90% de l'amplitude) se produit pendant l'exploitation totale du panneau. Le reliquat de l'affaissement est généralement réalisé dans les deux années qui suivent l'arrêt définitif de l'exploitation. Au-delà de cette période, les mouvements ne sont plus très significatifs car ils sont pratiquement de même amplitude que des mouvements naturels du sol, et restent de plus dans la limite des tolérances d'un nivellement de haute résolution. La remontée des eaux après l'arrêt de l'exhaure minière peut générer un soulèvement des terrains qui est fonction de la profondeur de l'exploitation, de la puissance des couches exploitées, de l'extension des travaux et de la hauteur de remontée du niveau piézométrique de la nappe d'eau souterraine. Les études de Bekendam et Pôttgens (1985, 2000) et de Fenk (1997) concernant respectivement des sites miniers aux Pays-Bas et en Allemagne ont mis en évidence ce phénomène. Les observations faites en Lorraine dans le secteur de Faulquemont, où la remontée des eaux est stabilisée, donnent des résultats similaires (Degas, 2001) (Wojtkowiak, 2001). Aucune conséquence sur le bâti et les infrastructures des régions soumises à ce phénomène n'a été constatée jusqu'à présent.
Fichier principal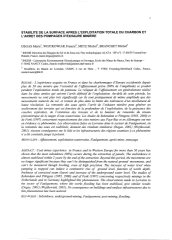 2003-014_hal.pdf (982.65 Ko)
Télécharger le fichier
Origin : Files produced by the author(s)