Validation de méthode d'étalonnage et évaluation des incertitudes de mesure en analyse chimique au moyen de la norme XPT 90-210 et du guide Eurachem
INERIS, a certified (ISO 9001) and accredited (ISO/CEI 17025) organization, has the mission of controlling industrial and environmental risks. The Institute expertise is mainly based on the exploitation of the test and analysis and results of measurement carried out in-house. The development of metrology and thus in particular the estimate of uncertainties of measurement was defined like a strategic axis. An example of a test relating to the proportioning of dangerous substances has been carried out with DRC/CHEN (Direction of "Risques Chroniques", in the department of "CHimie analytique et Environnementale") and SQM (Service de Qualité Métrologie). It was used as a support for measurement uncertainties calculations developed in this document.
L'INERIS, organisme accrédité ISO/CEI/17025, certifié ISO 9001 et reconnu BPL, a pour mission la maîtrise des risques industriels et la protection de l'environnement. L'expertise de l'Institut repose en grande partie sur l'exploitation des résultats de mesure, d'analyse et d'essais réalisés en interne. Le développement de la métrologie, et donc en particulier l'estimation des incertitudes de mesure, a été défini comme un axe stratégique. Un exemple d'essai portant sur le dosage de substances dangereuses a été réalisé à la Direction des Risques Chroniques dans l'unité de CHimie analytique et ENvironnementale (DRC/CHEN) en collaboration avec le Service de Qualité Métrologie (SQM). Il a servi de support pour les calculs des incertitudes de mesure exposés dans ce document.
Fichier principal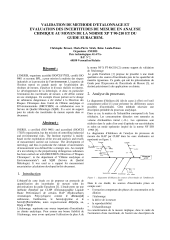 2003-143_hal.pdf (64.84 Ko)
Télécharger le fichier
Origin : Files produced by the author(s)