Aérosol submicronique en site urbain de fond : cas de la station de Genneviliers, hiver 2003
This paper presents the preliminary results of a winter 2003 5 weeks field campaign which has been carried out at the urban background station of Gennevilliers Paris area. In order to characterise the exposure to submicrometer particles, a Differential Mobility Analyser has been employed in the 10 to 500 nm range. The statutory air survey parameters, and meteorological parameters have been also considered. The hourly 10 nm - 500 nm number concentration ranged from 1.500 to 83.500 p.cm-3 . The median value is 13.000 p.cm-3 . The ultrafine particles (< 100 nm) are the dominant mode. The lowest correlation coefficient (0.46) concerns the ultrafine mode and PM 10. It suggests a certain independence of these two parameters. The linkage is better between the 100-500 nm range and PM 2.5.
Début 2003, durant 5 semaines, un suivi de la granulométrie des particules de la gamme 10 nm - 500 nm, a été réalisé au niveau d'une station de fond urbain de l'agglomération parisienne. Une base de données a ainsi été constituée, prenant en compte les indicateurs réglementaires " air ambiant " ainsi que les paramètres météorologiques. Son exploitation préliminaire est présentée ici. La concentration en nombre moyenne horaire de la gamme 10-500 nm va de 1.500 à 83.500 p.cm-3 , pour une valeur médiane de 13.000 p.cm-3 . Nous avons constaté la domination des particules ultrafines (< 100 nm). En terme de corrélation, nous relevons une certaine indépendance des particules ultrafines vis à vis des paramètres " massiques " PM 2.5 et PM 10. Ces derniers sont reliés de manière plus significative avec la gamme 100-500 nm.
Fichier principal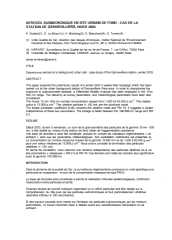 2003-174_hal.pdf (359.38 Ko)
Télécharger le fichier
Origin : Files produced by the author(s)