Auscultation micro-sismique de l'ennoyage du site expérimental de Tressange - Bassin ferrifère lorrain
In order to assess damage induced by flooding of abandoned underground iron mine, an experimental site has been flooded. A microseismic activity has been recorded during the experiment. Two different types of microseismic events were identified and are associated to different mechanisms. Analysis of seismic released energy of these events shows clearly a relation between the flooding effect of room-pillars and the occurrence of strong microseismic events.
Dans le but de mieux comprendre les processus d'endommagement des ouvrages miniers susceptibles de se produire lors de leur ennoyage, un site expérimental, situé dans le stot de Tressange, a été ennoyé et surveillé pendant un an et demi notamment par auscultation micro-sismique. L'analyse de l'activité micro-sismique a montré l'existence de deux classes d'événements bien distinctes qui semblent être associées à des phénomènes différents. L'analyse énergétique a mis en évidence une relation entre la montée de l'eau dans la cavité et l'apparition des événements microsismiques.
Fichier principal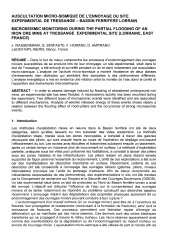 2004-094_hal.pdf (1.28 Mo)
Télécharger le fichier
Origin : Files produced by the author(s)