Etude numérique de l'influence des véhicules sur la destratification des fumées d'un incendie en tunnel
This article show the results of four CFD simulations made with FDS software [1]. This numerical study deals with the influence of vehicle on stratification loss phenomena in tunnel fire. First evaluations on this influence are then proposed. A comparison is systematically established between the case with vehicles and the case without vehicle. The results shown here after concern two different heat release rate currently used in French hazard studies for road tunnels. Thèse first results have shown that vehicles stopped in the near field upstream improve the stratification by reducing theé rebound of smoke plume on the roof. In opposite, vehicles in the far field upstream fire increase the size of turbulent structures, which induces a speed up of stratification loss phenomena.
Cet article présente les résultats de quatre simulations CFD réalisées à partir du code de calcul FDS [1]. Cette étude numérique permet de mettre en avant le phénomène de déstratification lié à la présence de véhicules dans un tunnel et de donner une première quantification sur ce niveau de déstratification. Une comparaison est établie de façon systématique entre la configuration tunnel avec obstacle et celle sans obstacle. Les résultats sont présentés pour deux puissances d'incendie type généralement retenues dans le cadre des études spécifiques des dangers des tunnels routiers. Ces premiers résultats ont permis de montrer que la présence de véhicules situés en aval proche de l'incendie favorise la stratification des fumées en limitant le phénomène de rebond des fumées au plafond. Par contre, plus en aval, les structures tourbillonnaires engendrées par ces véhicules accroissent le taux de déstratification.
Fichier principal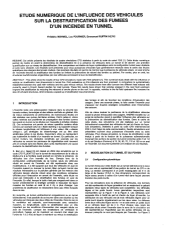 2005-213_hal.pdf (593.25 Ko)
Télécharger le fichier
Origin : Files produced by the author(s)