Vulnerability assessment for mining subsidence hazard
After the last mining subsidence events, which occurred in the iron-ore field in Lorraine (France) in 1996, 1997 and 1999, and because of the thousand hectares of undermined areas, the assessment of vulnerability of buildings and territories became necessary for risk management. The ten last years highlight evolutions of the vulnerability concept and its assessment method between the first risk management decisions and current risk assessment. These evolutions reveal a lot about the complexity of the vulnerability concept and about difficulties to develop simple and relevant methods for its assessment. The objective of this paper is to present this evolution and to suggest different improvements compared to other concepts and methods developed in other countries (USA, Poland...) and for other hazards (flood, industrial...). These improvements take into account more various kinds of elements in the vulnerability meaning (buildings, people, roads, public facilities and public functions) as well as they deal with method of assessment in relation to the subsidence intensity and vulnerable elements.
Depuis les affaissements miniers survenus en Lorraine en 1996, 1997 et 1999, et en raison des milliers d'hectars sous-minés, l'évaluation de la vulnérabilité des habitations et des territoires est devenu une nécessité pour permettre une meilleure prévention des risques. Les dix années écoulées depuis les premières décisions prises en réaction au risque d'affaissement minier montrent une évolution importante des méthodes employées. Ces évolutions sont révélatrices de la complexité du concept de vulnérabilité et de la difficulté à trouver des méthodes pertinentes et opérationnelles pour l'évaluer. Cet article a pour objectif de présenter cette évolution et de donner des perspectives d'amélioration au vu des méthodes employées dans d'autres pays (Etats-unis, Pologne) et vis-à-vis d'autres aléas (sismique, inondation, accidents industriels). Ces perspectives portent sur les différents enjeux qui contribuent à la vulnérabilité (personnes, bâtiments, infrastructures, équipements publics...) et sur les méthodes de caractérisation de la vulnérabilité en fonction des enjeux et de l'intensité de l'affaissement.
Fichier principal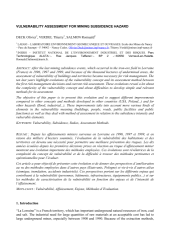 2005-242_hal.pdf (1.01 Mo)
Télécharger le fichier
Origin : Files produced by the author(s)