The post-minig context at Decazeville-Firmi concession (Aveyron, France) : analysis of impacts resulting from the cessation of pumping at the central shaft. Survey of various scenarios related to the water level of the Pit lake in the Grande Decouverte
Within the frame of the Survey related to the cessation of mine workings in Decazeville-Firmi concession, various impacts resulting from the cessation of pumping at the Central Shaft were assessed. Mainly these impacts are related to groundwater behaviour in the abandoned underground coalmines, hydrochemistry of waters discharged to the environment, ground stability concerns and coal gas emanations. This analysis allowed the choice of the most appropriate elevation of the pit lake level in the Grande Découverte, with the necessity to continue the pumping. Two main objectives were reached. The elected elevation is high enough to result in a permanent chemical stratification, which allows the pumping of the superficial waters and its discharge to natural watercourses without any treatment. The elected elevation is low enough to avoid any problem of inflow of water or ground stability at some particular places which might have been threatened by the rising of the piezometric level of the mining aquifer. Lastly, the elected elevation of the pit lake allows a quality scenery design around the pit lake.
Dans le cadre de la constitution du Dossier d'arrêt des travaux miniers dans la concession de Decazeville-Firmi, différents impacts résultant de l'arrêt du pompage au Puits Central ont été étudiés. Ces impacts sont principalement relatifs au comportement de l'aquifère minier, à la qualité des eaux restituées au milieu naturel, à la stabilité des terrains et aux gaz de mines. Cette étude a conduit à la définition de la meilleure cote du lac minier de Decazeville dans la Grande Découverte, en respectant deux principaux objectifs, avec la nécessité de poursuivre le pompage. La cote retenue est suffisamment élevée pour permettre l'établissement d'une stratification chimique permanente dans le lac minier, ce qui rend possible le pompage par soutirage de la tranche d'eau superficielle du lac et sa restitution au milieu naturel sans traitement particulier. La cote est suffisamment basse pour éviter tout problème de venue d'eau ou de stabilité des terrains en quelques zones particulières qui auraient pu être menacées par la remontée du niveau piézométrique de l'aquifère minier. Enfin, la cote retenue permet de réaliser un aménagement paysager de qualité autour du lac minier.
Fichier principal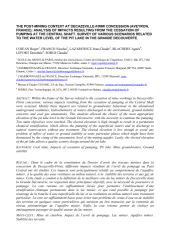 2005-243_hal.pdf (738.19 Ko)
Télécharger le fichier
Origin : Files produced by the author(s)