Détection des marnières de Haute Normandie par sismique haute résolution
This paper presents examples of application of the high resolution reflection seismics for the detection and localisation of underground voids which are old explorations of marl and chalk in Upper Normandy region in France. The voids occur at depths of 35-40 m. The survey is conducted using the classical impulsive down-hole source and the new portable high résolution P wave vibrator. The results show that detection is possible, reliable and precise.
Ce papier présente des exemples d'application de la sismique haute résolution à la détection et localisation des cavités souterraines qui résultent d'exploitation de marne et craie dans la région de Haute Normandie. Les vides se trouvent à profondeurs 35 - 40 m. L'investigation est réalisée avec des sources classiques (impulsionnelles) ainsi qu'avec un nouveau mini-vibrateur de haute résolution à ondes P. Les résultats démontrent que la détection est possible, fiable et précise.
Fichier principal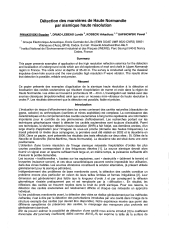 2006-251_hal.pdf (443.81 Ko)
Télécharger le fichier
Origin : Files produced by the author(s)