Conséquences d'évènements extrêmes sur la tenue de structures industrielles (CONSE2E)
This project aims to assess the structural safety of industrial structures (silo, tank,...) that might be impacted by various projectiles. It is therefore expected to improve diagnostics, prevention or protection actions. The originality of this approach underlies in a partnership between well-known and complementary institutes and firms and universities. This study is divided into four main parts: (i) to gather and treat the data from useful studies or others containments (in reinforced concrete or metallic); (ii) to unify and develop adequate numerical and experimental studies for this field; (iii) to define a stochastic model in order to perform sensitivity and reliability studies; (iv) to propose methodological tools helpful for optimal design of containments.
Ce projet vise à proposer une méthode d'évaluation de la tenue de structures de type enceinte (stockage, protection) soumises à une explosion ou un impact de projectiles. L'enjeu est de produire des outils, permettant d'une part de modéliser le chargement induit, d'autre part de modéliser la réponse de l'enceinte (métallique ou en béton armé) afin d'évaluer son risque de défaillance (dysfonctionnement). Cela requiert la définition préalable des dommages et de leurs probabilités d'occurrence. À cet effet, un partenariat entre des acteurs industriels et universitaires est proposé. Leurs compétences complémentaires sont présentées, en vue d'un choix concerté d'études expérimentales et numériques, puis d'actions de prévention et de protection plus sûres et économiques.
Fichier principal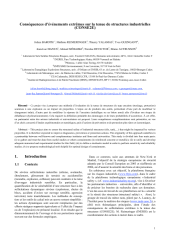 2007-027_hal.pdf (347.75 Ko)
Télécharger le fichier
Origin : Files produced by the author(s)