Allocations de SIL requis des fonctions instrumentées de sécurité d'une installation lorsque l'analyse de risques est imcomplète
The IEC 61511 standard describes various quantitative and qualitative methodology for SIL (Safety Integrity Level) allocation. The choice for one or another methodology will depend on various criteria as illustrated in this paper. We present the selection criteria of a method and we indicate the advantages and the disadvantages of these various methods. In order to illustrate our methodology, we took the example of an ammonia storage.
La norme CEI 61511 décrit différentes méthodes d'allocation de SIL (Safety Integrity Level), qu'elles soient qualitatives ou quantitatives. Aucune méthode n'est à privilégier, le choix d'une technique dépendra de différents critères comme le montre cet article. Nous présentons les critères qui orientent le choix d'une méthode et indiquons les avantages et les inconvénients de ces différentes méthodes. Une application sur une unité de stockage d'ammoniac est présentée afin d'expliciter notre démarche.
Fichier principal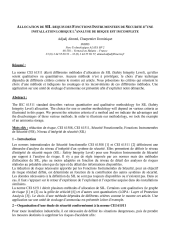 2007-040_hal.pdf (3.89 Mo)
Télécharger le fichier
Origin : Files produced by the author(s)