CAMI-AFT : a scientific field experiment to calibrate real-time monitoring systems dedicated to the management of post-mining risks
The CAMI-AFT experiment was performed to calibrate the physical parameters of real time microseismic systems installed at sites affected by post-mining instabilities, in the Lorraine iron basin (France) and to improve the processing tools as well as the data analyses. Blasts in the mine bottom, with known locations and energy release, were carried out at 6 instrumented sites. The recorded seismograms were used to test and calibrate numerical procedures to determine signal polarization - azimuth and incidence angle - by wave rotation methods. The data were also used to determine a multi-layered velocity model of the geological cover from a global inversion of P-wave arrival times. The performance of the 3D location program was tested by relocating the blasts using wave arrival times and polarisation angles in the determined, multi-layered velocity model. The data analysis for each site allowed the definition of an empirical law relating the source energy to the sensor energy.
Les objectifs de l'expérimentation CAMI-AFT étaient de caler les paramètres physiques des dispositifs de télésurveillance microsismique en temps réel déployés sur des zones à risque d'instabilité post-minière du bassin ferrifère Lorrain (France) et d'améliorer les outils numériques utilisés pour l'analyse des données microsismiques enregistrées. Des tirs d'explosifs en fond de mine, parfaitement connus en termes de localisation et d'énergie à la source, ont ainsi été réalisés sur 6 sites instrumentés. L'analyse des sismogrammes enregistrés a permis de tester et calibrer la procédure d'analyse des angles de polarisation des signaux - azimut et pendage des rais incidents - par la méthode de rotation d'onde. Les données microsismiques ont été également utilisées pour caler un model de vitesse multi-couches du recouvrement géologique, à partir d'une méthode inversion globale des temps d'arrivée des ondes P. L'efficacité du programme de localisation 3D a été testée pour retrouver la position des tirs à partir des temps d'arrivée des ondes et des angles de polarisation, mais aussi, grâce à l'utilisation d'un model de vitesse multi-couches. L'analyse des sismogrammes enregistrés a permis également de définir, pour chaque site, une loi empirique permettant d'estimer l'énergie à la source à partir de l'énergie au capteur.
Fichier principal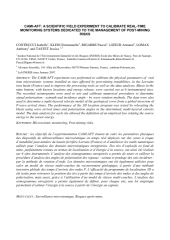 2008-036_hal.pdf (615.96 Ko)
Télécharger le fichier
Origin : Files produced by the author(s)