Impact of simplifications on the modeling of the hydromechanical behavior of a fractured porous carbonate outcrop
Quel est l'impact de simplifications géométriques et d'homogénéisations sur la modélisation du comportement hydromécanique d'un affleurement rocheux calcaire poreux et fracturé ?
This paper presents a numerical analysis of in-situ well injection and pumping experiments carried out at the Coaraze Laboratory site with simultaneous fluid pressure and rock deformation measurements in boreholes. The Coaraze site is a small fractured and porous carbonate reservoir (decametric scale) that outcrops 30 km north of Nice. We have developed three-dimensional numerical approaches to simulate the hydro-mechanical behavior of major fractures and the surrounding equivalent continuous and porous medium that represents the intact rock and the other fractures. We have particularly focused on evaluation of the impact of geometrical simplifications and up-scaling on the quality of the prediction of the reservoir hydro- mechanical behavior during hydraulic experiments. Including in the model a few "key" fractures that have important roles in fluid flow and deformation are shown to be as efficient as performing an up-scaling of the fracture network.
Cet article présente une analyse numérique de résultats d'essais d'injection et de pompage réalisés dans le site laboratoire de Coaraze avec mesures simultanées en forage de variations de pressions hydrauliques et de déformations. Le site de Coaraze est un petit réservoir calcaire poreux et fracturé (échelle décamétrique) qui affleure à une trentaine de kilomètre au nord de Nice. Nous avons développé des approches tridimensionnelles pour simuler le comportement hydromécanique des fractures les plus importantes couplé avec celui d'un milieu poreux équivalent représentant la matrice rocheuse intacte et les autres fractures. Nous avons, en particulier, évalué l'impact de simplifications géométriques et d'homogénéisations sur la qualité des prédictions du comportement hydromécanique du réservoir durant les expérimentations. Inclure dans le modèle uniquement les fractures "clef", jouant un rôle important hydrauliquement et/ou mécaniquement, s'avère aussi efficace qu'exécuter une homogénéisation prenant en compte l'ensemble des fractures.
Fichier principal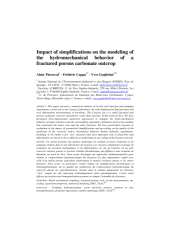 2010-415_hal.pdf (1.1 Mo)
Télécharger le fichier
Origin : Files produced by the author(s)