Modélisation numérique de la formation d'un fontis à l'aide du code de calcul UDEC : influence de la stratification et de la rigidité de la couche exploitée
The sinkholes can be at the origin of more or less significant damage according to their dimensions, of the nature of the grounds in which they occur and of the occupation of the ground. Their forecast is often based on practice codes and the experience feedback. We sought to simulate the mechanism of rupture and to envisage the shape of the bell, which results its propagation towards surface. A modelling is led, by the method of the distinct elements (UDEC), and based on observations. It was implemented on a real case, careers of the Paris Basin, and is based on a methodology of progressive generation of the fractures in the strata of covering. For better understanding this complex phenomenon, a study of sensitivity of the formation of the subsidence was carried out. It relates to the density of the stratification and the rigidity of the worked seam. This study confirms that methodology suggested constitutes a useful method of prediction of the phenomenon sinkholes formation.
Les effondrements localisés " fontis " peuvent être à l'origine de dommages plus ou moins importants en fonction de leurs dimensions, de la nature des terrains dans lesquels ils se produisent et de l'occupation du sol. Leur prévision s'appuie souvent sur des règles de l'art et le retour d'expérience. Nous avons cherché à simuler le mécanisme de rupture et à prévoir la forme de la cloche qui résulte sa propagation vers la surface. Une modélisation est conduite, par la méthode des éléments distincts (UDEC), s'appuie sur des observations. Elle a été mise en oeuvre sur un cas réel, des carrières du Bassin Parisien, et s'appuie sur une méthodologie de génération progressive des fractures dans les bancs du recouvrement. Pour mieux comprendre ce phénomène complexe, une étude de sensibilité de la formation du fontis a été réalisée. Elle concerne la densité de la stratification et la rigidité de la couche exploitée. Cette étude confirme que la méthodologie proposée constitue une méthode utile à prédire le phénomène de formation de fontis.
Fichier principal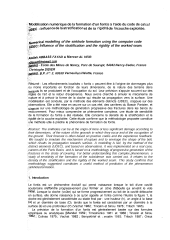 2004-048_hal.pdf (685.41 Ko)
Télécharger le fichier
Origin : Files produced by the author(s)