Decision aid for the selection of priority substances in Environmental Health: associating an expert opinion and a participatory multi-criteria analysis.
Aide au choix de substances prioritaires en Santé environnementale : un processus associant un avis d'expert et une analyse multicritère participative.
Identifying and ranking substances of concern is a complex task, because the meaning of 'substance of concern' differs according to the specific regulation, public policy, ranking exercise, and individual opinion. In terms of public actions, the choice of priority substances is generally supported by rankings of substances constructed by experts. In this article we suggest a process that adds to this ranking others based on views identified among others involved in the decision process, including but not limited to groups of decision makers, stakeholders, and members of civil society. Participatory multicriteria methods may be used for this purpose. These methods structure the participatory approach and make explicit the underlying logic of each ranking generated; they can be adapted to the available data. These methods have been implemented with stakeholders in other ranking exercises, dealing with various environmental issues, but not yet, to our knowledge, for ranking substances of concern. Using this ranking process for choosing priority substances in light of a specific objective, decision-makers can illuminate and nourish their analyses with several different rankings, characterized by their underlying logic, rather than by a single ranking that presupposes a consensus that does not necessarily exist. These different rankings will enable them, to some extent, to understand and take into account the diversity of the viewpoints that can be selected to meet the objective. This process can be adapted to any type of context and objective. An application conducted in 2012, to support the choice of the priority substances of the future French Environmental Health National Action Plan (PNSE3), illustrates each step of the process.
Identifier et hiérarchiser des substances préoccupantes est une tâche complexe, car la notion même de substance préoccupante revêt un sens différent selon les réglementations, les politiques publiques, les exercices de hiérarchisation existants ou les opinions individuelles. En termes d'actions publiques, le choix de substances prioritaires s'appuie généralement sur des ordres de substances construits sur la base d'un avis d'experts. Le processus décrit dans cet article propose de fournir, en complément, des ordres de substances basés sur des points de vue identifiés parmi d'autres acteurs de la décision : groupes de décideurs, représentants d'intérêts divers, personnes issues de la société civile, etc. Pour ce faire, le processus invite à mettre en œuvre des méthodes multicritères participatives. Ces méthodes permettent de structurer l'implication des différents acteurs, explicitent la logique sous-jacente de chaque ordre généré et s'adaptent aux données disponibles. Leur mise en œuvre auprès de parties prenantes a été réalisée dans d'autres exercices de hiérarchisation, portant sur des problématiques environnementales diverses. À notre connaissance, elle n'a pas encore été réalisée dans le cadre de la hiérarchisation de substances préoccupantes. En utilisant ce processus de hiérarchisation à l'occasion d'un choix de substances prioritaires, répondant à un objectif spécifique, les décideurs pourront éclairer et nourrir leurs réflexions en s'appuyant sur plusieurs ordres de substances, accompagnés de leur logique sous-jacente, plutôt que sur un ordre unique qui supposerait un consensus qui n'existe pas nécessairement. Ces différents ordres leur permettront, dans une certaine mesure, d'appréhender et de tenir compte de la diversité des points de vue pouvant être choisis pour répondre à l'objectif retenu. Ce processus peut s'adapter à tout type de contexte et d'objectif de hiérarchisation. Une application réalisée en 2012, pour appuyer le choix des substances prioritaires du futur Plan national santé environnement (PNSE3), permet d'illustrer chaque étape du processus dans cet article.
Fichier principal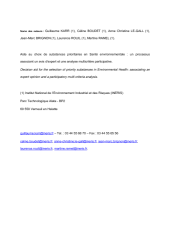 2014-104 post-print.pdf (218.37 Ko)
Télécharger le fichier
Origin : Files produced by the author(s)