De la performance des évacuateurs de crues dans les études de dangers à la probabilité d'occurrence d'une rupture de barrage en crue
French regulation for dams safety defines dam classes and related requirements. Among those requirements, safety reports are mandatory for dams of classes A and B. A safety report is the evaluation of the risk level (in probability and severity) that the structure poses on its environnement at a given time. INERIS has adapted existing methodologies about safety systems evaluation. The aim is to use spillways performance in order to assess the semi-quantitative probability of dam break due to a flood in safety reports. This work is based on the state of the art regarding flood predetermination and spillways conception and management. Differents types of spillways have been evaluated according to the requirements in use for the safety barrier : response time, sizing, efficiency, confidence level and maintenance over time. The confidence level permits to assign a probability of failure on demand class to a safety barrier through a technical and qualitative evaluation. As the spillways failures are considered as root events in a bow-time diagram, the confidence level has been translated in annual frequency. Those different datas are used to calculate a probability of dam break due to a flood.
La réglementation relative à la sécurité des ouvrages hydrauliques définit des classes d'ouvrages pour les barrages et les digues et des obligations associées. Parmi celles-ci, les Études de Dangers (EDD) sont requises pour les barrages de catégories A et B. Une EDD est une évaluation, à un instant donné, du niveau de risque (caractérisé en probabilité d'occurrence et en gravité des conséquences) que l'ouvrage fait peser sur son environnement. L'INERIS a réalisé une étude dont l'objectif est de valoriser les connaissances existantes sur l'évaluation des performances des dispositifs de sécurité, afin d'intégrer les performances des évacuateurs de crues (EVC) à l'évaluation semi-quantitative de la probabilité de rupture des barrages en crue réalisée dans les EDD. L'étude s'appuie sur l'état de l'art relatif à la prédétermination des crues et aux caractéristiques des EVC. Les différents types d'évacuateurs ont été évalués suivant les critères utilisés habituellement pour les barrières de sécurité : temps de réponse, dimensionnement adapté, niveau de confiance et maintien dans le temps. Le contenu détaillé de l'évaluation a été adapté aux spécificités des évacuateurs de crues. Le niveau de confiance permet d'assigner une classe de probabilité de défaillance à la demande à partir d'une évaluation technique et qualitative. La défaillance des évacuateurs de crues étant généralement considérée comme un événement initateur dans une EDD, cette classe de probabilité a été traduite en fréquence annuelle. Ces éléments permettront donc de caractériser la probabilité d'occurrence d'une rupture de barrage en crue.
Fichier principal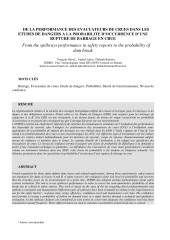 2015-337 post-print.pdf (644.07 Ko)
Télécharger le fichier
Origin : Files produced by the author(s)