Méthodologie pour la gestion du risque versant sous-cavé
The hazard "under-mined slope" is a complex hazard that combines two: the cliff collapse hazard and the underground cavity hazard. There is a reciprocal influence between these two hazards if their distance does not exceed a characteristic distance. An assessment methodology of "under-mined slope" hazard making possible the delineation and characterization of risk area has been developed and implemented at several sites. Meanwhile, a tool was used, the 3D laser scanner, to allow having a site scanning and a three-dimensional vision of the site. It is then possible to measure the spacing of fractures, calculate the volume of unstable materials or to monitor the evolution of the site if this process is repeated at regular intervals. This tool associated with the methodology enables effective management of the instability risk.
L'aléa « versant sous-cavé » est un aléa complexe qui en rassemble deux : l'aléa éboulement de falaise et l'aléa cavité souterraine. Il existe une influence réciproque entre ces deux aléas si la distance les séparant n'excède pas une distance caractéristique. Une méthodologie d'évaluation de l'aléa «versant sous-cavé» rendant possible la délimitation et la qualification de zones à risque a été élaborée et appliquée sur plusieurs sites. Parallèlement, un outil a été utilisé, le scanner laser 3D, permettant d'avoir une numérisation et une vision en trois dimensions du site. Il est alors possible de mesurer l'écartement des fractures, de calculer le volume de matériaux instables, voire de surveiller l'évolution du site si un scan est répété à intervalles réguliers. Cet outil associé à la méthodologie de l'évaluation de l'aléa permet ainsi une gestion efficace du risque d'instabilité rocheuse.
Fichier principal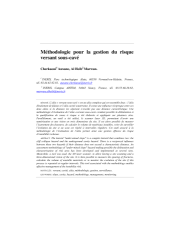 2014-062_post-print.pdf (1.84 Mo)
Télécharger le fichier
Origin : Files produced by the author(s)