Safety management system : which critical space for anticipation decision-making ?
Système de gestion de la sécurité : quel espace critique pour la décision d'anticipation ?
We propose to question the link between safety management systems, and safety-related decision-making. Our focus on the contribution of the SMS on the decision making process. We performed a deep review of the literature from scientific corpus, as well as issues of industrial guidelines, to make a comparison between the different standards available. We used a three step methodology. The objective of the second step is the selection of standards. The third step allocated to the comparative analysis. As a result, we have identified similar elements and variables between SMS models. Construction and establishment of these management tools for the manager was also discussed. The proliferation of tools allows to gradually improves the management of safety. However, our study shows that several criteria for systems security management still need to be discussed.
Nous proposons ici de questionner le lien existant entre les systèmes de gestion de la sécurité, et la prise de décision. Plus précisément, quelle est la contribution du SGS à la construction de l'écosystème décisionnel ? Quelle est la capacité du SGS à faire face à un risque évolutif ? Nous nous appuyons sur une revue profonde de la littérature issue de corpus scientifiques, ainsi que celle issues des bonnes pratiques industrielles, pour réaliser une comparaison entre les différents référentiels disponibles. La méthode suivie pour la réalisation de cette analyse est composée de 3 étapes. La première étape est allouée à la construction de la grille d'analyse. L'objectif de la seconde étape est la sélection des référentiels. Ils sont principalement utilisés par les grandes entreprises. La troisième étape est l'analyse comparative des référentiels. Comme résultat, nous avons identifiés des éléments similaires et variables entre les modèles de SGS analysés. La construction et la place de ces outils de gestion pour le manager a également été discuté. La multiplication des outils permet d'améliorer graduellement la gestion de la sécurité. Pourtant, notre étude montre que plusieurs critères relatifs aux systèmes de gestion de la sécurité ont encore besoin d'être discuté.
Fichier principal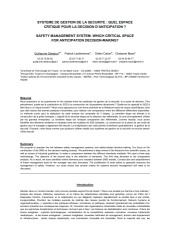 2014-336_post-print.pdf (339.59 Ko)
Télécharger le fichier
Origin : Files produced by the author(s)