Bioessais et contaminants émergents. Vers de nouvelles stratégies de surveillance dans la DCE
Water chemical quality assessment based on analyses of selected priority substances, as performed under the European Water Framework Directive (WFD), provides limited information on the diversity and complexity of environmental contaminations. Effect-based methods (EBM), such as bioassays, allow integrative assessment of all bioactive substances within a given environmental sample and are thus complementary to target chemical analyses. Ineris has contributed to the development of several in vitro and in vivo bioassays allowing sensitive and quantitative detection of endocrine disrupting chemicals in environmental matrices and applied them in both national and European prospective monitoring programs. In the framework of the AQUAREF program, we contributed to the European "Estrogen monitoring project" that showed operationality of in vitro estrogenicity bioassays to detect estrogen steroids in surface and waste waters, to provide comparable information as cutting-edge chemical analysis methods, and to provide risk information on the basis of in vitro trigger values. The data obtained in such prospective monitoring programs are made available to regulatory bodies in the view of the integration of EBMs in water monitoring strategies for the next WFD cycles.
L'évaluation de la qualité chimique des milieux fait actuellement face à des défis scientifiques et techniques importants pour prendre en compte la complexité des contaminations et la toxicité des mélanges. Les milieux aquatiques sont contaminés par des milliers de molécules chimiques, de classes et d'origines très diverses, qui peuvent subir des transformations biotiques et abiotiques générant ainsi des métabolites et produits de dégradation parfois aussi, voire plus, toxiques que les composés parents. La prise en compte de la complexité de cette contamination constitue aujourd'hui un enjeu majeur dans la surveillance des pollutions aquatiques. La directive-cadre européenne sur l'eau (DCE) impose une surveillance chimique des milieux basée sur l'analyse d'un nombre fini (53) de substances prioritaires, fournissant une information très limitée au regard de la réalité. L'utilisation de méthodes d'analyse plus intégratives et prenant en compte les interactions entre polluants est donc envisagée pour améliorer le diagnostic. Les méthodes biologiques telles que les bioessais de laboratoire renseignent sur la toxicité de l'ensemble des molécules biologiquement actives présentes dans un échantillon, tout en intégrant les interactions entre molécules. Parmi les méthodes actuellement disponibles, les bioessais basés sur le mécanisme d'action des polluants, e.g. interaction avec un récepteur intracellulaire, fournissent une réponse sensible et spécifique de familles de polluants, tels que les composés dioxin-like ou les composés oestrogéniques...
Fichier principal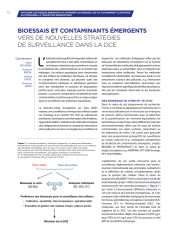 2017-417_post-print.pdf (136.59 Ko)
Télécharger le fichier
Origin : Files produced by the author(s)