Effets du cuivre sur la structure et le fonctionnement des écosystèmes aquatiques
Annually around the world, about 15 millions tons of copper are used by various activity sectors such as building, electricity, plumbing and agriculture. The aquatic environment is highly concerned by copper pollution, as it is an ultimate receptor of urban wastewater, industrial and mine effluents, agriculture run off and atmospheric deposition. One of the many characteristics of copper is that it is an essential element for organisms given that it is present in a high number of enzymes involved in metabolic processes. Nonetheless, at high concentrations, it is highly toxic to many organisms. Despite of its frequent application in natural ecosystems as an algicide, fungicide, bactericide, plant herbicide and molluscicide, few studies have been performed at the community and ecosystem levels. The ecotoxicological risk assessment and the analytical and environmental chemistry units of INERIS initiated, in 2000, a research project aimed at evaluating the effects of copper on the structure and functioning of freshwater ecosystems. A long-term lotic mesocosms experiment was thus carried on in 20 m long channels, under continuous environmentally realistic concentrations of copper (0, 5, 25 and 75 µg/l) for 18 months. Community structure of phytoplankton, periphyton, macrophytes, zooplankton, macroinvertebrates, emerging insects, aquatic hyphomycetes and population dynamics of three-spined sticklebacks (Gasterosteus aculeatus) were monitored. Copper effects on ecosystem functioning were studied through leaf decomposition processes and the building up of a food web model. Principal Response Curve analyses, showed that copper at 25 and 75 μg/l altered the structure of all communities. Functioning of the leaf decomposition was also altered. Aquatic hyphomycetes showed functional redundancy in their ability to degrade leaf litter. The food web model based on functional groups qualitatively analysed with loop analyses showed that direct effects of copper propagated within the trophic levels and lead to indirect positive or negative effects. Factors other than predator-prey interactions probably played an important role in the observed community/ecosystem responses (intra-inter competition, tolerance, seasonal benefit, habitat availability, external invasion, access to more resources such as light or nutrient). This study highlighted the importance of studying both ecosystem structure and function. Further research on functional endpoints and food web modelling seems necessary. Considering all the results, a NOEAEC of 4 μg/l was set up for freshwater ecosystems. This value can contribute to the estimation of the copper threshold value for regulatory matters.
Le cuivre est un métal largement utilisé - 15 millions de tonnes par an dans le monde - dans de nombreux secteurs industriels. Parmi ceux-ci, l'usage dans les câbles électriques et les applications électroniques représente la majeure partie (9,75 x 106 tonnes/an). Les autres utilisations concernent la construction, la plomberie, l'équipement, les industries d'alliage, de peinture, de traitement du bois, mais aussi l'agriculture. Dans ce dernier secteur, le cuivre est fréquemment utilisé comme fongicide, algicide, bactéricide, herbicide et molluscide dans les milieux aquatiques. Le cuivre est un métal essentiel, toxique à faible et à forte dose. Sa grande utilisation dans des usages dispersifs et sa toxicité connue pour de nombreux organismes ont tout naturellement conduit l'INERIS à évaluer les risques pour les écosystèmes aquatiques liés à leur contamination par ce métal.
Fichier principal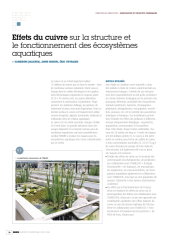 2008-424.pdf (183.26 Ko)
Télécharger le fichier
Origin : Publication funded by an institution