La présence de nanotubes de carbone dans l'environnement présente-t-elle un risque pour notre santé ?
Carbon nanotubes (CNT) are single or multi-cylindrical graphene structures that possess diameters of a few nanometers, while the length can be up to a few nanometers. These could have unusual toxicological properties, in that they share intermediate morphological characteristics of both fibers and nanoparticles. Due to their interesting mechanical and electrical properties, they are more and more used in various industries and it is thus urgent to assess their potential toxicity. Several studies performed by intratracheal instillation showed that carbon nanotubes (CNT) induced pulmonary fibrosis, granulomas or inflammation. But, recently, two inhalation studies did not observed such pathological phenomena and suggest that granulomas could be due to the instillation of unbreathable agglomerates. In a previous study, we have described a simple method (using albumin as dispersing agent) which produced solutions containing more than 80% of agglomerate of breathable size. We report here results from intratracheal instillation of rats by 0, 1, 10 or 100 µg of multi-walled CNT (MWCNT) dispersed with albumin. After 1, 7, 30, 90, and 180 days, no inflammation, fibrosis and granuloma formation were detected. The respiratory function of animals was also unmodified. Only a dose-dependant apoptosis of alveolar macrophages was noted. These result underline the importance of controlling MWCNT agglomerate size when exposing animals, through appropriate dispersion methods. This study also showed that MWCNT can be eliminated and do not significantly cross the pulmonary barrier but are still present in lungs 6 months after a unique instillation. MWCNT appeared to be cleaved in the lung. Long-time presence of MWCNT in the lung was associated with lung induction of cytochrome P450 1A1 and 2E1 mRNA suggesting a possible role of these enzymes in MWCNT clearance. These results provide the first data of CNT biopersistance and clearance at 6 months after respiratory administration.
Par leur petite taille, un milliardième de mètre, les nanoparticules confèrent des propriétés nouvelles aux matériaux existants. Par exemple, des matériaux réputés isolants se transforment en conducteurs d'électricité, de très fines particules possèdent une forte résistance mécanique… Ainsi, plusieurs secteurs industriels tels que la cosmétologie, la micro-électronique, le bâtiment, l'automobile ont déjà des produits issus des nanotechnologies. La population risque donc d'être exposée. Lors du Grenelle de l'Environnement, il a été décidé de demander aux pouvoirs publics de réaliser un bilan coûts/avantages systématique de la mise sur le marché de produits contenant des nanoparticules ou nanomatériaux. À partir des résultats des études en cours, des dispositions seront prises pour renforcer l'information et la protection des salariés et de la population. Ces particules étant susceptibles de se trouver en suspension dans l'air, une des principales voies d'exposition à considérer dans notre environnement est la voie respiratoire. C'est dans ce contexte que nous réalisons l'étude de la toxicité de nanoparticules manufacturées et en particulier l'étude de nanotubes de carbone (NTC) introduits dans l'appareil respiratoire. Cette particule, de quelques nanomètres de diamètre et de quelques micromètres de long, possède la forme d'un cheveu (voir photo 1) et est pressentie pour de nombreuses applications en électronique (transistor optique, microprocesseur…), aéronautique (revêtements des fusées ou combinaison des astronautes), médecine (vecteur de médicament, molécules d'aide au diagnostic de pathologies)… Ainsi, de nombreuses questions se posent. Les nanoparticules induisent-elles une réponse inflammatoire ou un stress oxydant ? Altèrent-elles ou détruisent-elles les cellules pulmonaires ? Quel est le devenir de ces particules dans le corps ? Franchissent-elles la barrière épithéliale pulmonaire ? En quelle quantité ? Migrent-elles vers d'autres compartiments biologiques ? Ont-elles la capacité d'affecter le système nerveux, immunitaire, cardiovasculaire, reproducteur ? Ce sont quelquesunes des questions auxquelles les travaux en cours au sein de l'INERIS tentent d'apporter des réponses.
Fichier principal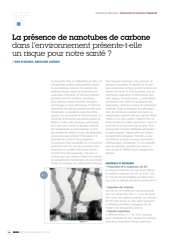 2008-430.pdf (93.83 Ko)
Télécharger le fichier
Origin : Publication funded by an institution