Expertise - Logistique des marchandises dangereuses. Vers une évaluation globale des risques
GLOBAL research program aims to develop a global method of risk assessment which can take into account the whole accidental risks linked to the dangerous goods supply chain. GLOBAL was led by INERIS with the association of the French national authorities, a Canadian research organism (CIRANO), the Urban Community of Grand Lyon and some large enterprises (Air Liquide, Arkema, Gaz de France, SNCF). This joint approach started in 2004 with an experimental description work of risk evaluation and decision-making situations has been achieved in 2007 by the realisation of a system analysis while encouraging all the actors (industry, local communities, public authorities) to work together most upstream possible on the evaluation of needs and the choices of risk control of operating. Indeed, the current situation is widely under the control of the bipartite negotiation but generates some negative effects which are often misunderstood by the other parties concerned with the taken decisions. So, this method will allow to give a more standardised base to industry practices and represents a tool to help the actors to integrate the risk factor in the decision they have to take regarding the dangerous goods supply chain.
L'activité industrielle nécessite la production et l'emploi de produits dangereux, mais aussi leur transport entre les installations fixes, ce qui induit, par conséquent, la mise en place d'une logistique appropriée. La terminologie en transports combinés, proposée par la Commission Économique pour l'Europe, définit la logistique comme étant le processus de conception et de gestion de la chaîne d'approvisionnement dans le sens le plus large. Cette chaîne peut comprendre la fourniture des matières premières nécessaires à la fabrication, la gestion des matériaux sur le lieu de fabrication, la livraison aux entrepôts et aux centres de distribution, le tri, la manutention, le conditionnement et la distribution finale au lieu de consommation. Actuellement, le transport des marchandises dangereuses (TMD), d'une part, et les stockages de marchandises dangereuses, d'autre part, font séparément l'objet d'évaluations des risques basées sur des méthodes propres. Il en ressort des mesures de maîtrise du risque indépendantes alors que les deux activités sont liées tout le long de la chaîne logistique. Par exemple, certaines décisions relatives aux stockages fixes (réduction de capacités de stockage, par exemple) sont susceptibles d'induire un report du risque sur les phases de transport ou de stockage temporaire (exemple, parcs de stationnement ouverts au public). Ces activités rassemblent un certain nombre d'acteurs (industriels, transporteurs, commissionnaires de transports, etc.) et font intervenir différents types d'interfaces (entre modes de transport, et entre transport et installations fixes). On comprend que la maîtrise des risques de la chaîne logistique implique le développement d'une méthode d'analyse de risque permettant de prendre en compte l'ensemble des maillons constituant la chaîne en question. L'industriel pourra ainsi mieux prendre en compte le critère risque pour motiver son choix d'une chaîne logistique tout comme une collectivité ou une autorité pourra le prendre en compte pour motiver un choix d'aménagement du territoire. La maîtrise des risques passe par une série de décisions qui s'appuient, entre autres, sur une estimation des risques. Ces décisions peuvent être de nature préventive, tel le choix de la chaîne logistique la moins risquée ou de l'aménagement du territoire le moins risqué, ou curative avec la mise en place de mesures de maîtrise des risques. Les décisions de gestion des risques et les stratégies associées reposent sur des arbitrages intégrant d'autres aspects que l'aspect risque, et mettent en évidence des finalités multiples (comme, par exemple, le coût, l'impact sur l'environnement, la sécurité au travail des exploitants, la qualité des prestations proposées, les liens commerciaux entre les entreprises impliquées, la rapidité des services proposés, etc.). Une telle perspective dans la prise de décision amène à considérer le développement de méthodes multicritères, servant de support à des situations de décision multidimensionnelle pour lesquelles les facteurs à prendre en compte sont nombreux, de différente nature et difficiles à quantifier par les méthodes d'analyse des risques traditionnelles. Cette perspective oriente également vers l'intérêt de démarches collectives de prise de décisions plutôt qu'individuelles ou sectorielles. Les enjeux du Projet GLOBAL Dans ce contexte, le programme de recherche GLOBAL avait pour objectif de développer des outils méthodologiques qui permettent de donner une base objective aux décisions publiques en matière de maîtrise des risques technologiques et soient notamment utilisables dans le contexte de l'application de la loi n° 2003-699 du 30 juillet 2003.
Fichier principal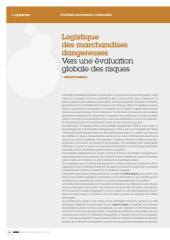 2008-436.pdf (88.7 Ko)
Télécharger le fichier
Origin : Publication funded by an institution