Expertise - Projet DRIVE : étude expérimentale et numérique pour l'évaluation des risques liés à l'hydrogène
The ever-increasing use of hydrogen in the transport sector requires very high safety standards. However, due to the lack of information regarding the safety level of hydrogen systems, risk assessments tend to be over cautious in determining the consequences of accidental releases and could impose restrictive technical regulations. This drove the National Institute of Industrial Environment and Risks (INERIS) along with the French Atomic Energy Commission (CEA), the French automotive manufacturer PSA PEUGEOT CITROËN and the Research Institute on Unstable Phenomena (IRPHE) to submit with success a project called DRIVE (Experimental Data for the Evaluation of Hydrogen Risks, for the validation of numerical tools and for the Edition of guidelines) to the National Research Agency in June 2005. This project aims at providing quantitative experimental data for automotive applications to strengthen the risk assessments. The work program of DRIVE covers all aspects of the accidental chain: hydrogen releases, formation of an explosive atmosphere (ATEX), ignition of the ATEX, flame propagation and its consequences. State-of-the-art risk assessment and mitigation techniques are also considered within this project.
Dans le cadre du Projet DRIVE(2) dont il assure la coordination, l'INERIS étudie, en collaboration avec le CEA (Commissariat à l'Énergie Atomique), l'IRPHE (Institut de Recherche sur les Phénomènes Hors Équilibre) et PSA Peugeot Citroën, les situations de fuites propres à l'usage de l'hydrogène dans le secteur automobile. L'objectif principal du Projet DRIVE est de produire des données expérimentales nécessaires à l'évaluation des risques des systèmes qui mettent en œuvre de l'hydrogène. Sur la base de ces données, des référentiels techniques d'aide à la quantification des risques seront établis. Ces référentiels aideront les concepteurs et les évaluateurs des risques de systèmes à hydrogène à garantir un niveau de sécurité en adéquation avec un usage par le grand public. Les recherches portent sur l'ensemble de la chaîne accidentelle, à savoir : ● les fuites, qu'elles soient chroniques ou accidentelles, ● la formation de l'ATEX (dispersion + accumulation de l'hydrogène), ● l'inflammation (étincelle électrique, surface chaude…), ● la combustion et les effets associés (feu torche et explosion).
Fichier principal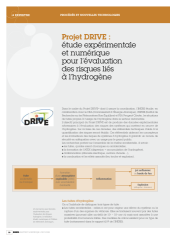 2008-440.pdf (180.23 Ko)
Télécharger le fichier
Origin : Publication funded by an institution