Développement d'une méthodologie de modélisation de l'endommagement du recouvrement des cavités dans le sel
With the objective to better understand the evolution of overburden damage on top of an underground solution mining, an in-situ experiment is undertaken above a salt cavity in the Lorraine region (NE of France) until 2005. The overburden overlying the salt cavity is characterized by a competent layer where most brittle damage, with the associated microseismicity, is expected. This work is focussed on a coupled continuum-discrete modelling approach to simulate the mechanics of fracture initiation and propagation in the rock mass. A methodology of a large scale coupled continuum-discrete modelling is proposed and applied to the site of Cerville-Buissoncourt. The numerical verification of the hybrid approach response is achieved by comparing the results with those from the fully continuum model at the site scale when the competent layers behave elastically. The results are quite satisfactory. Moreover, the development of microcracking is in accordance with the predicted tensile zones obtained with a fully continuum approach. The sudden rise up of the microcracks cumulative number from a specific brine depth level on, can be interpreted as the fracture development by coalescence of microcracks within the competent bed, which may possible, indicate the beginning of a generalized instability of the overburden. Finally, the coupled continuum-discrete methodology presented herein provides a good opportunity to explicitly simulate the microcraking in the overburden. A conclusive statement about failure mechanisms, with eventually a quantitative comparison, will be achieved when information about microseismic event locations and magnitudes will be available.
L'INERIS instrumente depuis 2005, dans le cadre du Groupement d'Intérêt Scientifique GISOS, une cavité saline en exploitation dans le bassin salifère lorrain. Le site d'expérimentation se situe à l'intérieur du périmètre de la concession minière de Cerville-Buissoncourt appartenant à la société SOLVAY. Il s'agit de mettre à profit l'occasion unique, offerte par l'évolution d'une grande cavité souterraine jusqu'à son effondrement provoqué volontairement (partie intégrante de la méthode d'exploitation), pour valider, en vraie grandeur, différentes techniques d'auscultation et de surveillance, employées par l'INERIS et d'autres partenaires du GISOS.
Fichier principal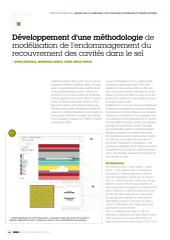 2008-443.pdf (170.77 Ko)
Télécharger le fichier
Origin : Publication funded by an institution