Reconnaissance du sous-sol par méthodes géophysiques appliquées à la détection des cavités souterraines
This document presents a report on research work carried out in the frame work of a large program entitled « Geophysical detection of underground cavities ». The principal objective is to develop tools and procedures to enhance the performance and the resolution of the geophysical imaging. The step that consists in developing technical tools and to improve scientific knowledge in the field of underground sounding applied to the cavities detection and diagnostic is upstream process of risk management. To achieve these goals, the program was elaborated on the basis of partnership research implying scientists and industrial able to associate knowledge, experience, the know-how and the expertise. A large aspect of the work carried out concerns the design and development of acquisition tools to increase the performance of the high-resolution seismic reflection, in particular, to optimise the resolution of the sub-surface imaging. Vibratory sources in P and S waves, a procedure of generation and optimisation of Sweep were developed and validated. Powerful and operational seismic acquisition package is, from now on, available for underground auscultation applied to cavities detection. In addition to SHR (Seismic High Resolution), the geophysical techniques based on the microgravity and electrical resistance measurements were investigated in salt context of Lorraine region (East France) and the marl-pits of Haute-Normandie (North France). It arises from the experiments on pilot sites a satisfactory detection of cavities in the studied contexts thanks to the new developments of HRS acquisition System. In addition, the investigation of the three selected geophysical techniques raised the interest of joint measurements of the high-resolution seismic and the microgravity in particular in the context of the marl-pits. The following report presents the works on the SHR developments, the evidential results of the field experiments carried out in the salt basin of Lorraine and marl-pits of Haute-Normandie as well as an experience feedback of the undertaken research.
Les recherches scientifiques portant sur les techniques géophysiques visant à détecter, localiser et caractériser les cavités souterraines situées à des profondeurs comprises entre une dizaine de mètres et quelques centaines de mètres (~ 300 m) demeurent plus que jamais d'actualité. En effet, pour cette gamme de profondeur, la plupart de ces techniques présentent des limites de résolution et demandent à être adaptées au domaine d'application visé, à savoir la délinéation et la caractérisation des ouvrages souterrains abandonnés et leur recouvrement. En outre, des compromis entre la résolution de l'imagerie géophysique et les profondeurs d'investigation et de détection doivent être judicieusement établis selon la technique choisie et la cible recherchée. Par ailleurs, les techniques les plus utilisées pour la détection des cavités, telles que la microgravimétrie, la sismique et la résistivité électrique rencontrent souvent des limitations liées à l'environnement des mesures, en particulier dans les secteurs urbains où l'activité humaine et les conditions de couplage avec le sol diminuent l'efficacité de ces techniques (faible rapport signal/bruit). Néanmoins, certaines de ces techniques se révèlent prometteuses à condition d'en développer et d'en affiner les outils d'investigation et d'interprétation mis en œuvre aujourd'hui. Focalisé sur cet objectif, ce programme de recherche a consisté à élaborer des outils d'acquisition et de traitement permettant d'augmenter l'efficience et la résolution de l'imagerie de la technique Sismique Haute Résolution (SHR). Des mesures in situ, basées sur trois techniques (microgravimétrie, SHR et résistivité électrique), ont été réalisées afin d'expérimenter ces outils et d'en comparer les performances dans deux contextes distincts (marnières, cavités de dissolution dans le sel).
Fichier principal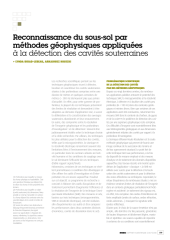 2008-444.pdf (264.35 Ko)
Télécharger le fichier
Origin : Publication funded by an institution