La modélisation en écotoxicologie
We present a modelling framework to link effects on toxicological targets, effects on individuals and effects on populations in ecotoxicology. Our models first link exposure and effects on individuals. They couple toxicokinetics, to link exposure and body residues, with toxicodynamics, to assess how chemicals in the organism affect biological processes. They are based on the DEB (Dynamic Energy Budgets) theory by Kooijman (2000), which describes mathematically the assimilation and use of energy. They permit to assess the physiological mode of action of substances, and the effects of complex mixtures. We recently developed a Bayesian approach to estimate their parameters. The relevance of the analysis at individual level, with incorporation of time and modes of action, guarantees the relevance of the change of scale from individuals to population and of its use in ecotoxicological risk assessment. We studied population dynamics, and could balance the effects on population parameters by the influence of these parameters on the population dynamics. We also develop a modelling approach adapted to mesocosms to simulate control situations, which should increase the predictive power of these systems. The perspectives at INERIS are the development of biology-based models for endocrine disruption and the continuation of our works on the use of the change of scale in risk assessment and on mesocosms data analysis.
Pour des raisons pratiques, l'écotoxicologie s'est d'abord centrée sur l'étude de l'effet des polluants sur les organismes via des bioessais réalisés en laboratoire, avec une démarche proche de la toxicologie. En effet, ils sont réalisés avec des populations monospécifi ques homogènes, exposées à une gamme de concentrations toxiques, dans des conditions d'environnement standardisées, et l'effet n'est recherché la plupart du temps que sur un unique paramètre. En conséquence, ils ne permettent pas d'appréhender, à eux seuls, la complexité du terrain où ce sont des populations d'organismes de diverses espèces qui sont exposées à des mélanges de contaminants et où les différents effets observés interfèrent, mais pas nécessairement de manière additive. Les connaissances mathématiques, biologiques, écologiques et toxicologiques actuellement disponibles sont maintenant suffisantes pour mettre en place une démarche de modélisation capable d'apporter une plusvalue en mettant en relation les effets au niveau de cibles biologiques, les effets au niveau des individus et les conséquences projetées sur des populations, voire des communautés. C'est ce que nous nous sommes efforcés de démontrer. Dans un premier temps, nous avons développé des modèles mathématiques capables de mettre en relation les effets mesurés sur les individus avec une exposition à un contaminant.
Fichier principal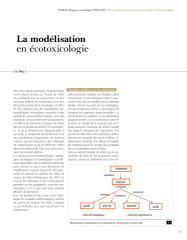 2009-438.pdf (122.85 Ko)
Télécharger le fichier
Origin : Publication funded by an institution