Améliorer les méthodes d'estimation prospective de l'exposition aux polluants des populations autour d'une Installation Classée pour la Protection de l'Environnement
Models' predictions for human exposure to lead emissions of facilities were assessed through: 1) comparing the results given by several models (from stacks'emissions to human blood concentrations) ; 2) comparing predicted concentrations to observed ones. 1) The results obtained depend on the models used. Calculations made with a deterministic approach can also be completely different from those obtained with the probabilistic approach. With a «reasonably conservative» approach, the level of conservatism is unknown and variable from a study to another one. According to the objective of the risk assessment study carried out (to check the absence of inacceptable risks, to achieve a surveillance program for example), if a probabilistic approach is not conducted, several point estimations can be required. 2) Two models were used for the comparison of the predicted concentrations with measurements. The fi rst one (A) provides the distribution of the media-specifi c lead concentrations (air, soil, fruit, vegetables and blood) in the whole area investigated, whereas the second (B) estimates the concentration of exposure of individuals living in the study area. Model A tended to overestimate the exposure due to exposed vegetables in the case study. Model B was tested for 9 children with contrasting exposure conditions. It managed to capture the blood levels for 8 of them. The interest of model B is to provide outputs with lower variance than model A, but further tests are necessary to conclude about its accuracy.
En France, les études d'impact réalisées dans le cadre des procédures d'autorisation des Installations Classées pour la Protection de l'Environnement (ICPE) doivent prendre en compte l'impact sur la santé des populations (loi sur l'Air de 1996 et son article 19, circulaire de la DPPR du 19 juin 2000). La démarche d'évaluation des risques sanitaires (ERS) est la méthode préconisée pour caractériser le risque encouru par une population vivant dans la zone d'influence d'une ICPE. Dans ces études prospectives, l'étape d'évaluation des expositions repose fréquemment, hors situation de pollution avérée, sur une approche de modélisation, car ce sont les risques futurs qui sont évalués. Il est donc important d'acquérir des éléments d'information sur la qualité (précision et justesse) des estimations de l'exposition obtenus par modélisation.
Fichier principal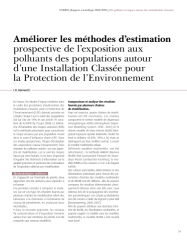 2009-446.pdf (217.37 Ko)
Télécharger le fichier
Origin : Publication funded by an institution