Développement des biocarburants et enjeux de sécurité liés aux procédés de production et à la distribution
The project BIOSAFUEL® (2006-2009) was conducted by INERIS with external partners (UPJV, ENSIB, or CERL) to provide a first overview of existing or potential safety issues. Steps of the project comprised : a) literature review operations and exchanges of actors from the biofuel industry, b) analytical assessments of products and process driven hazards pertaining to 1G and 2G biofuels c) in depth analysis of accidents that struck the biofuel industry in the last decade (identification of major accident scenario typology by use of hierarchical clustering) d) experimental phases focusing on special safety issues, like the characterization of hazards pertaining to biodiesel catalysts e) development of a user-friendly computer-assisted tool. It allows a preliminary and evaluation of hazards pertaining to biofuels chains (biodiesel, bioethanol, and hydrotreated,) with a life cycle analysis perspective. Although 1G biofuels rely on relatively mature technologies, the fast moving scene of biofuel development justify that attention keeps paid on safety issues. Favorable and unfavorable factors for safety management have been clearly identified, accidents do regularly occur, and some challenging issues are foreseen for peculiar applications like the promotion of brand new biofuels (like furanics), the use of ethanol rich fuel mixtures in diesel engines, or the use of biomass derived fuels in replacement or addition to kerosene for public aviation transport. It must be realized that safety management is actually a genuine component of sustainability of biofuels in the future.
Lancé en 2006, le programme BIOSAFUEL® est l'un des tous premiers programmes de recherche dédié à l'analyse des questions de sécurité relatives au développement des biocarburants (carburants moteurs élaborés à partir de biomasse) pour lequel on assiste à un véritable effet de mondialisation. On peut rappeler que ce secteur d'activité connaît en effet un essor extrêmement important depuis 2003 en Europe, année de publication de la directive européenne (30/2003/CE) fixant de premiers objectifs d'utilisation en termes de taux d'incorporation (5.75 % à l'horizon 2010). Depuis lors, le soutien de ce secteur par les politiques publiques ne s'est pas démenti (lancement de l'E10 en France en avril 2009, adoption de la nouvelle directive sur les énergies renouvelables par Bruxelles fin 2008), et ce, malgré des interrogations récurrentes (à partir de l'été 2007) sur la durabilité de certaines filières de production. Les objectifs du programme BIOSAFUEL® comportaient notamment une première évaluation globale des enjeux de sécurité en s'appuyant sur l'examen des risques produits et procédés associés aux principales technologies de production de biocarburants (bibliographie, échange avec industriels, participation à des conférences…), mais aussi sur l'analyse de l'accidentologie récente et la réalisation d'expérimentations dédiées. En outre, le produit de sortie majeur escompté était le développement d'un premier outil simplifié de pré diagnostic du niveau de risque encouru dans les différentes filières de production ou pour un projet donné. Nous avions dans le rapport scientifique de 2007 rendu compte des premiers résultats de notre analyse, en rappelant notamment la typologie des risques spécifiques présentés par l'éthanol et les premiers enseignements du retour d'expérience.
Fichier principal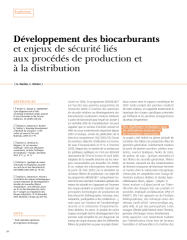 2009-447.pdf (225.57 Ko)
Télécharger le fichier
Origin : Publication funded by an institution