Méthodes intégrées d'évaluation des risques et des menaces. Programmes européens SECURE SITE et IMPROVE
Terrorist acts perpetrated in the United States and then in Europe led the European Commission to propose a European Programme for Critical Infrastructure Protection (EPCIP) and a Critical Infrastructure Warning Information Network (CIWIN) in 2004. Consequently, the Commission proposes in the framework of a specific five-year programme the specific objectives and thematic priorities on security and the protection of critical infrastructures. The chemical sites were identified among critical infrastructures as hazardous substances are stored, produced and handled, which can lead to not only human and material damage but also to fear and loss of confidence within the public with regard to chemical industry. In this context that the SECURE-SITE (2006-2007), coordinated by INERIS and then IMPROVE (2008-2010), coordinated by the CEFIC were proposed. These projects gather several European partners (Belgium, France, Germany, Netherlands, Austria, Sweden, Italy and Czech Republic) from different background: public institutions, a professional federation, a university and the private sector. IMPROVE aims at providing a methodology for vulnerability analysis of chemical sites and integrating safety and security approaches, based on the results from the SECURE-SITE project and on the existing European regulations (like the Seveso II Directive). A review of the European regulations related to safety and security was performed across the Member States.
Suite aux attaques terroristes aux États-Unis, le Conseil européen a demandé à la Commission d'élaborer une stratégie globale de renforcement de la protection des infrastructures critiques, définies comme les actifs, les systèmes qui sont indispensables au maintien des fonctions sociétales critiques : la chaîne d'approvisionnement, la santé, la sécurité. En réponse, la Commission a transmis, le 22 octobre 2004, une communication intitulée « Protection des infrastructures critiques dans le cadre de la lutte contre le terrorisme », dans laquelle elle propose des mesures en vue de renforcer la prévention, la préparation et la réponse de l'UE face aux attaques terroristes contre des infrastructures critiques. Le projet de la Commission de proposer un programme européen de protection des infrastructures critiques (EPCIP) et un réseau d'alerte concernant les infrastructures critiques (CIWIN) a été accepté lors du Conseil européen des 16 et 17 décembre 2004. Ainsi, la DG JLS (Direction Générale Justice, Liberté et Sécurité) adopte depuis 2004, un programme annuel de travail, détaillant les objectifs spécifiques et les thématiques prioritaires sur le thème de la sûreté et de la protection des infrastructures critiques.
Fichier principal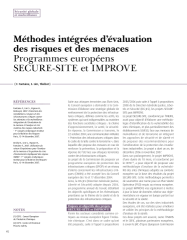 2009-453.pdf (84.17 Ko)
Télécharger le fichier
Origin : Publication funded by an institution