Caractérisation et prédiction du comportement hydromécanique des milieux rocheux fracturés
During the last three decades, considerable efforts have been devoted to investigate and to characterize the hydromechanical behaviour of fractures. INERIS has participated to this research in collaboration with the Sols, Solides, Structures laboratory (L3S) from Institut National Polytechnique of Grenoble, the Environnement, Géomécanique & Ouvrages laboratory (LAEGO) from Institut National Polytechnique of Lorraine and Géoscience-Azur laboratory from Nice university. The main contributions concern the determination of relations between joint hydraulic opening and joint mechanical closure ; the improvment of a experimental device, préviously used to characterize individual fractures at the laboratory scale, in order to also measure the flow through porous rock mass sample in addition to fracture flows ; the development of a removable device allowing the in situ fracture monitoring through the realization of simultaneous pressure and mechanical displacement measurements. Three-dimensional numerical approach was also developed to simulate at big scale the hydromechanical behavior of a fractured rockmass using explicit representation for the main fractures and up-scaling for the others. Thus, this work made it possible to progress in the theoretical and practical comprehension of the laws governing the coupling between the mechanical deformations and the fl ows within the fractured rock mass. From now, it is possible to consider the application of these results to various problems relating to the field of INERIS expertise as rock slope stability or underground cavern design.
Le comportement mécanique, hydraulique et hydromécanique des fractures a été abondamment étudié durant ces trente dernières années et ce à divers titres (exploitation minière, stabilité des versants rocheux, stockage géologique). Il a ainsi clairement été établi que les paramètres géométriques (rugosité des épontes et répartition des zones en contact et des vides), les paramètres mécaniques (raideurs normale et tangentielle) et les paramètres hydrauliques (perméabilité ou ouverture hydraulique de la fracture) sont en lien direct avec les sollicitations qui se développent au niveau de ces zones « sensibles » (contraintes mécaniques et pressions hydrauliques). L'INERIS a contribué à ces travaux en collaboration avec le laboratoire Sols, Solides, Structures (L3S) de l'Institut national polytechnique de Grenoble et le Laboratoire environnement, géomécanique & ouvrages (LAEGO) de l'Institut National Polytechnique de Lorraine. Cette collaboration a conduit notamment à élaborer une procédure d'identifi cation de la loi de couplage hydromécanique reliant l'ouverture hydraulique à la fermeture mécanique des fractures à partir d'essais de laboratoire. L'analyse de la morphologie des épontes de la fracture a également mis en évidence une relation entre cette loi et la variation de la surface de contact (ou d'écoulement) de la fracture avec la contrainte normale effective [Lopez et al., 2007].
Fichier principal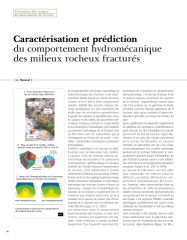 2009-456.pdf (103.41 Ko)
Télécharger le fichier
Origin : Publication funded by an institution