Surveillance de l'évolution d'une cavité saline jusqu'à son effondrement
Managing the risk of ground instabilities linked to the presence of underground cavities requires a good knowledge of accidental phenomena like subsidence or large scale collapse. In order to improve our understanding in ground failure phenomenon induced by old mining works, a mine exploited by solution mining technique has been instrumented in 2004 prior to its collapse resulting of the mining scheme. A permanent early warning system was set up, including a high resolution microseismic monitoring network linked to a surface field displacement measurement system. The important amount of data transmitted by on-line processing offered daily insight of the evolution of the geological system. After a stationary period, the cavern entered into its final evolution phase since early 2008. The microseismic activity showed upwards progressive failure migration all along 2008 without any significant surface movement. Then, after two days of intensive brine extraction, the high microseismicity and energy release rate marked the failure of a thin and very stiff dolomite layer underlying 120 meters deep. This failure occurred 24 hours before the final collapse; it was followed by transient brine pressure signals, and by an exceptional acceleration in the surface subsidence rate. The analysis of the numerous data collected during this experiment is being developed within the framework of a research program dedicated to the identification of early warning signals of instability.
La gestion des risques de mouvements de terrain liés à la présence d'ouvrages souterrains requiert une bonne connaissance des phénomènes d'aléa du type affaissements ou effondrements en grand. Dans ce contexte, l'INERIS mène des travaux de recherche et a saisi l'opportunité d'instrumenter une cavité saline de grandes dimensions, en cours d'exploitation, pour tester différentes techniques d'auscultation et de surveillance. Dans le contexte des cavités abandonnées, les techniques mises en oeuvre permettent de détecter les phénomènes d'effondrement, dont le déclenchement peut être brutal, et laisser le temps aux pouvoirs publics et aux collectivités de prendre les mesures de protection nécessaires.
Fichier principal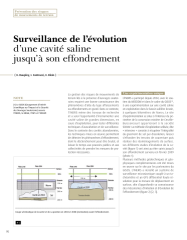 2009-457.pdf (210.07 Ko)
Télécharger le fichier
Origin : Publication funded by an institution