Impact des mouvements de terrains sur les bâtis et les infrastructures
The excavation and the collapse of underground cavities can induce the subsidence of the ground surface. The damages due to the subsidence may affect the structures and the infrastructures. The qualification of the level of potential damages is done without taking into account the soil-structure interaction. INERIS realizes today an important research program to study the effect of soil-structure interaction. Three research tools are adopted: in situ observation, physical and numerical modelling. INERIS has realized the concept and the construction of an important physical model for modelling the subsidence. A simple house was also constructed on the subsidence zone. The fi rst results of the physical modelling clearly show the influence of structures on the through subsidence shape. Thank to the numerical modelling, we know that the amplitude of the ground movement transmitted to the structure depends on their stiffness, it varies between 5 % and 100 % of the movement induced by underground cavities under greenfield conditions.
Les mouvements de terrains (retraits-gonfl ements, glissements, affaissements, effondrements localisés et généralisés, etc.) sont souvent dommageables pour les structures ou les infrastructures. Le niveau de dommage dépend de l'amplitude des mouvements et des caractéristiques des ouvrages en surface. L'évaluation de la vulnérabilité des structures ne tient pas toujours compte de l'interaction entre le sol et l'ouvrage. Des mesures de mouvements de terrains réalisées lors du creusement d'un tunnel à Londres ont montré clairement l'écart entre le modèle de prédiction sans tenir compte de l'interaction sol-structure et les mesures in situ. Elles ont montré que la courbe d'affaissement obtenue dépend de la rigidité de la structure affectée. Le nombre de structures exposées au risque de mouvements de terrains est très important. Il est primordial de proposer une évaluation précise et des solutions effi caces pour bien évaluer et réduire la vulnérabilité.
Fichier principal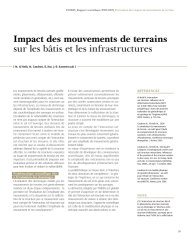 2009-458.pdf (167.43 Ko)
Télécharger le fichier
Origin : Publication funded by an institution