Faisabilité du stockage du CO2 en gisement houiller et étude de l'adsorption du CO2 sur le charbon
Since 2006, the VELCO2 project initiated by INERIS studied the geological storage of CO2 in unminable coal seams. Two coal basins have been identified for a possible storage in France: Lorraine basin and Arc basin in Provence. Coal samples originated from these basins were selected to perform CO2 and CH4 sorption experiments with a suspension magnetic balance at INERIS. Several conclusions may be made: (i) CO2 is twice more adsorbed than CH4, (ii) the moisture of coal is a parameter that negatively influences the adsorption capacity of gases, (iii) the sorption capacity of CO2 on coal decreases with increasing temperature, but the sorption kinetics is accelerated. Experiments have shown that the interaction between coal and CO2 is essentially a physical sorption and that the diffusion coefficient of CO2 is about 10−12 m2 s−1. From laboratory results, CO2 capacity storage has been evaluated for the two areas studied. These estimations are promising and show that the storage of CO2 emitted by nearby energy facilities would be feasible for one to several decades. The feasibility was also studied from the economic point of view. All elements investigated show the interest of studying further this way of storing CO2 - provided we success in enhancing the diffusivity of CO2 within coal. High sorption potential of CO2 also suggests that it will be possible to recover methane that is initially adsorbed in coal (Enhanced Coal Bed Methane ECBM).
Fort de son expérience unique dans le domaine du charbon et de son interaction avec les gaz, l'INERIS joue un rôle central dans l'étude de la faisabilité de stockage de CO2 dans les gisements houillers, notamment français. Cette implication s'est notamment traduite par le développement du programme de recherche VELCO2, qui contenait une très forte composante expérimentale et a contribué à constituer un laboratoire dédié à l'étude de l'adsorption « gaz-solide », mais qui s'est également attaché à intégrer à la réfl exion les aspects économiques de la problématique. Une campagne ambitieuse d'essais de laboratoire a ainsi été menée pour différents environnements houillers français, permettant l'établissement d'isothermes caractéristiques de la nature des charbons et d'étudier le rôle de différents paramètres environnementaux sur le processus d'adsorption. Ce travail s'est notamment appuyé sur la thèse de Delphine Charrière soutenue en octobre 2009. Parallèlement, a démarré depuis 2007, une recherche impliquant d'autres partenaires, intitulée CHARCO « Expérimentation et modélisation de l'échange de gaz dans les Charbons en vue d'un stockage du CO2 - CharCO ». Financée par l'ANR, elle associe l'INERIS, le BRGM, l'INPL-LAEGO, l'Université d'Orléans, l'Université de Metz et TOTAL pour une durée de 4 ans.
Fichier principal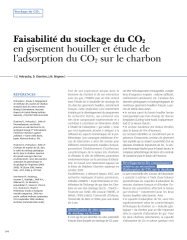 2009-460.pdf (125.27 Ko)
Télécharger le fichier
Origin : Publication funded by an institution