Variabilité de l'échantillonnage d'un milieu aquatique
With the support of the French River Basin Agencies (RBAs), the French Ministry of Ecology and its local offices, INERIS organised a collaborative field trial in June 2007 on a minor tributary of the River Seine near Paris. This trial was the first attempt to improve knowledge of the effect, in natural river water, of sampling activity undertaken as part of regulatory monitoring. The Epône sampling spot was selected for its central location, because its rural characteristics are representative of the majority of the RBAs' sampling stations, and because it enabled more than 40 people to be brought together in a secure environment. The selected monitoring parameters were: - pH, oxygen, temperature and conductivity (field parameters); - suspended particulate matter (SPM), nitrites, orthophosphates, barium, di-2-éthylhexyle phtalate (DEHP), and one OHV, tetrachloroethylene (parameters to be analysed in a laboratory). The aim of this study was to evaluate several sampling procedures, including standardized ones, to determine the variability induced by sampling operations compared to subsequent analytical processes. "Sampling activities" include sampling performance and external inputs, e.g. weather. Individual field observations were also performed in order to understand the reasons for reference methods not being rigorously followed and to propose improvements that will make these methods more acceptable to the sampling staff, and thus more reliable. Solutions were developed to overcome the difficulties in the data interpretation caused by climate conditions during the trial.
Depuis deux décennies, les décideurs du domaine de l'eau et du milieu aquatique font pression sur les laboratoires pour qu'ils améliorent la fi abilité des données fournies afin d'améliorer la conformité des résultats de surveillance des milieux avec la réglementation en vigueur. En premier lieu, la réponse consiste à améliorer la chaîne d'analyse via l'application de procédures d'assurance qualité. Ce processus, pris en charge à travers l'accréditation, a connu sa limite au début du nouveau millénaire car l'influence de l'échantillonnage sur le résultat n'était pas prise en compte.L'échantillonnage se définit comme le fait de prélever plusieurs échantillons représentatifs d'un milieu aquatique. Bien que cette influence ait été reconnue depuis 1980, avec la publication du premier guide de la série ISO 5667 traitant des différents aspects de l 'échantillonnage, les ef for ts ont essentiellement por té sur la description et la validation du processus analytique applicable à partir de l'entrée de l'échantillon au laboratoire. Les mesures propres à assurer des conditions d'échantillonnage adéquates y sont par fois décrites, mais pas systématiquement. Dans le cas contraire, il est souvent fait appel à la norme ISO 5667-3 [1] relative à la préservation et la manipulation de l'échantillon. Les 19 autres parties de ce recueil de lignes directrices sont rarement utilisées, étant considérées comme trop théoriques et insuf fisamment descriptives. En outre, les normes de cette série n'ont jamais été validées par des comparaisons interlaboratoires et la variabilité associée à leur utilisation n'a donc jamais été établie. Ainsi, alors que l'incertitude associée au résultat analytique d'une mesure ef fectuée pour la surveillance de l'environnement peut être estimée par plusieurs moyens communément admis, la variabilité introduite par la réalisation d'un échantillonnage des milieux aquatiques en conditions réelles reste inconnue. Bien que partagée par de nombreux organismes de recherche agissant en soutien des autorités réglementaires dans leurs pays respect i fs, cet te préoccupation n'a débouché que sur quelques rares tentatives pour en quantifier les effets réels. Aucun organisateur d'essais interlaboratoires ne propose de telles campagnes, et le seul essai publié a été conduit en 2007 par le Centre Commun de Recherche (Joint Research Centre JRC) de la Commission européenne. Au cours de cette campagne, neuf laboratoires institutionnels européens ont prélevé des échantillons réputés identiques sur le Pô, à Pontelacoscuro près de Ferrare, et réalisé les analyses correspondantes dans leurs propres laboratoires. Les résultats n'ont pas permis d'identifier quelle partie de la variabilité interlaboratoire est introduite par l'analyse, et quelle partie peut être attribuée à l'échantillonnage. C'est pourquoi, dans une tentative innovante d'approche des différentes procédures de prélèvement utilisées pour la surveillance de l'environnement, de leur champ d'application et de la variabilité qui en résulte, l'INERIS, avec le soutien du ministère français chargé de l'Écologie, a organisé en juin 2007 le premier essai collaboratif de terrain national, réunissant les 14 équipes sous-traitantes des autorités françaises d'échantillonnage dans le cadre du déploiement de la Directive Cadre sur l'eau (DCE).
Fichier principal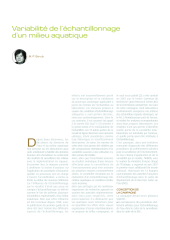 2010-452.pdf (159.82 Ko)
Télécharger le fichier
Origin : Publication funded by an institution