Caractérisation des particules générées par la combustion d'encens
The potential health effects of fine and ultrafine particles are of increasing concern. A better understanding of particle characteristics and dispersion behavior is needed. This study aims at characterizing spatial and temporal variations in fine and ultrafine particle dispersion after emission from a model source in an experimental house. Particles emitted by an incense stick burning for 15 minutes were characterized. Number concentration, specific surface area and mass were measured. Partial chemical analysis of particles was also realized. Near the burning incense stick, the maximum concentration was 25500 particles/cm3; the indoor PM 2.5 concentration reached 197 μg/m3, and the specific surface area concentration was 177 μm2/cm3. Time of Flight Aerosol Mass Spectrometer measurements indicated that the organic fraction was predominant in the aerosol mass detected, and other minor components identified were K+, NO3, and Cl-). The combustion of an incense stick in the living room was associated with significant modifications of the concentrations of particles measured in the different rooms of the house. This demonstration of pollution by particle dispersion by incense may have significant implications in terms of assessment of indoor exposure to such particles.
Nos travaux de recherche ont eu pour objectif de caractériser des niveaux de concentration en particules ultrafines (PUF) - de taille de l'ordre du nanomètre - dans l'air intérieur d'une maison modèle en activant différentes sources. Les 13 sources identifiées ont été mises en oeuvre dans la maison et les variations temporelles et spatiales des concentrations en PUF émises ont été mesurées dans différentes pièces. Une partie de ces travaux de recherche a été menée en partenariat avec le Centre Scientifique et Technique du Bâtiment (CSTB), l'INSERM U955, l'École des Hautes Études en Santé Publique (EHESP), le Laboratoire d'étude des Particules Inhalées (LEPI) et l'Institut de Recherches sur la Catalyse et l'Environnement (IRCE) dans le cadre du projet NANOP (financement APR Afsset).
Fichier principal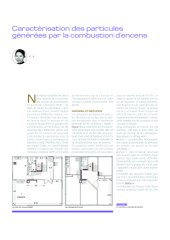 2010-454.pdf (147.41 Ko)
Télécharger le fichier
Origin : Publication funded by an institution