La modélisation des aérosols organiques secondaires
An improved and complete secondary organic aerosols (SOA) chemistry scheme was recently implemented in the CHIMERE model. The implementation of isoprene chemistry for SOA significantly improves agreement between long series of simulated and observed particulate matter concentrations. While simulated organic carbon concentrations are clearly improved at elevated sites by adding the SOA scheme, time correlation are impaired at low level sites in Portugal, Italy and Slovakia. At several sites a clear underestimation by the CHIMERE model is noticed in wintertime possibly due to missing wood burning emissions as shown in previous modeling studies. In Europe, the CHIMERE model gives in 2003 yearly average SOA concentrations ranging from 0.5 μg/m3 in the Northern Europe to 4 μg/m3 over forested regions in Spain, France, Germany and Italy. Isoprene chemistry has a strong impact on SOA formation when using current available kinetic schemes. Dry deposition of semi-volatile organic compounds (SVOC) is not currently treated in most chemical transport models of air quality and this omission has been identified as a possible major source of uncertainty. The effect of dry deposition of SVOC on the concentration of secondary organic aerosols (SOA) is investigated in summertime with the chemical transport model CHIMERE that simulates SOA concentrations by means of molecular SOA surrogate species. Omitting dry deposition could overestimate SOA concentrations by as much as 50%. This overestimation is larger during nighttime due to higher relative humidity.
Les aérosols atmosphériques - fines particules solides ou liquides en suspension dans l'atmosphère - peuvent être émis directement par l'homme (rejets industriels, échappements automobiles, combustions diverses, etc.) ou bien naturellement (feux naturels, poussières volcaniques, embruns marins, etc.) : il s'agit alors d'émissions primaires. Les aérosols peuvent également provenir de réactions chimiques en phase gazeuse (oxydation par OH, O3, etc.) formant des espèces condensables (à faibles tensions de vapeur saturante), qui contribuent ainsi à la formation de particules : on parle alors de sources secondaires. D'un point de vue réglementaire, on distingue les concentrations de particules de diamètre inférieur à 2.5 μm (PM 2.5) et inférieur à 10 μm (PM 10), les particules les plus fines pouvant pénétrer plus profondément dans le système respiratoire. Les particules sont composées d'une grande variété d'espèces organiques et inorganiques (carbone élémentaire, sulfates, nitrates, ammonium, sels marins, etc.).
Fichier principal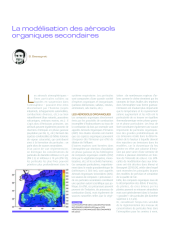 2010-456.pdf (131.25 Ko)
Télécharger le fichier
Origin : Publication funded by an institution