Outils de criblage in vitro et in vivo chez le poisson pour l'évaluation des effets endocriniens de polluants aquatiques
Current concern on the effects of endocrine disrupting chemicals (EDCs) to fish and human health has stimulated the development and implementation of screening and testing procedures, notably within the perspective of the new EU regulatory framework for chemicals (REACH). Given the complexity of modes of action and the effects of EDCs, various biological targets are to be evaluated at molecular, cellular, organism and population levels. Here, we set up a panel of new in vitro and in vivo mechanism-based tools to study chemical interaction with estrogen-regulated pathways in fish. By using stable reporter cell lines derived from fish and human cell lines, it is shown that estrogenic responses vary between models, likely due to cell context and/or cross-species differences. In addition, such in vitro screening of various environmental molecules allowed identifying those that exert higher estrogenic potency in fish cellular context, such as UV screens. To further assess such specific effects in vivo, we report the use of hormone-regulated gene expression and a transgenic line expressing green fluorescent protein under the control of brain aromatase promoter (cyp19a1b) that were developed in a model fish species, the zebrafish. The developed assays offer rapid, specific and sensitive in vitro and in vivo screening tools that could serve in EDCs testing strategies for aquatic vertebrates.
Les perturbateurs endocriniens (PE) regroupent des substances d'origines et de structures très diverses qui peuvent agir sur l'ensemble des étapes de la régulation endocrine et induire des effets néfastes sur la santé d'un organisme, ou sa descendance, secondairement à des changements de la fonction endocrine. En raison des risques qu'ils font courir en particulier sur la fonction de reproduction, le développement de stratégies de tests et d'outils de criblage est devenu un enjeu majeur pour identifier les substances actives et quantifier leurs effets. Dans ce contexte, les poissons apparaissent comme des organismes cibles particulièrement sensibles pour lesquels des études démontrent des liens forts entre l'exposition environnementale à des composés PE et des effets néfastes sur les individus et les populations sauvages. Pour étudier les effets endocrines des substances chimiques chez le poisson, l'INERIS s'appuie sur une démarche intégrant différents niveaux de complexité biologique : moléculaire (expression de gènes), cellulaire, tissulaire et de l'organisme (impacts physiologiques). La mise en oeuvre de cette approche passe par le développement et la validation d'outils de caractérisation du danger des substances chimiques. Face à la diversité des molécules et des mécanismes d'action impliqués, l'utilisation de tests de criblage sensibles et spécifi ques (incluant des essais in vitro et in vivo à court terme) est indispensable pour l'évaluation des substances chimiques vis-à-vis de leurs effets sur la fonction endocrine.
Fichier principal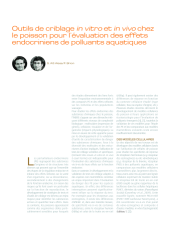 2010-463.pdf (116.57 Ko)
Télécharger le fichier
Origin : Publication funded by an institution