Étude de la combustion d'un mélange pyrotechnique fuel/comburant
In the last years, energetic materials have been regularly involved in explosions and fire events. They react very rapidly and release large amounts of energy. Their main peculiarity stems from the oxidiser present in their composition, so they do not require oxygen from the air as their primary reaction partner. The thermal and chemical characterisation of such compounds is fundamental to understand their combustion behaviour and then becomes able to prevent severe hazards. A methodology based on combining a thermal analysis and calorimetry tests carried out using a Fire Propagation Apparatus enabled to determine an overall description of the physical and chemical mechanisms taking place during the combustion of sample energetic materials. The analysis showed that both the concentration in oxidizer and the composition of the reactive atmosphere influence the combustion regime that prevails. Understanding the decomposition and oxidizing processes occurring during the different combustion regimes is critical to predict potential toxic emissions. Another essential parameter for the characterisation of a fire scenario involving energetic materials is the Heat Release Rate (HRR). The use two calorimetric methods, Oxygen Consumption and Carbon Dioxide Generation principles, allowed the calculation of the HRR from the burning of the sample material. Nevertheless, a correction procedure based on the use of a fictitious molecule model and an estimation of the heat of reaction needs to be applied to account for the internal supply originating from the oxidizer.
Les incendies qui impliquent des matériaux énergétiques, constitués notamment de mélanges de type fuel/comburant solides, diffèrent des incendies de type conventionnel. Afin de prévenir la manifestation de tels scénarios, plusieurs directives (REACh, Seveso…) ont été établies. Elles mettent clairement en évidence que le point cr it ique à maî t r iser se concentre dans l 'apt i tude à comprendre le comportement du matériau énergétique dans des conditions hors de son champ d'utilisation normal. Lorsqu'ils sont soumis à un flux de chaleur suffi samment élevé, une décomposition thermique du composé s'opère. Le comburant libère des éléments oxydants qui diffusent dans le milieu gazeux et sont capables de réagir avec les éléments issus de la dégradation du fuel. Une réaction de combustion peut alors s'établir (figure 1). Le comburant provenant de la composition du matériau est le principal oxydant de la réaction de combustion en lieu et place de l'oxygène de l'air. Par ailleurs, certaines réactions chimiques issues de la décomposition thermique du matér iau ou d'une combustion incomplète favorisent la formation de composés toxiques. Une gestion adaptée de la problématique incendie liée aux matériaux énergétiques implique une meilleure compréhension des phénomènes chimiques intervenant durant la combustion. Pour ce faire, la défi nition d'une méthodologie, permettant de caractériser les principales réactions ayant lieu, les émissions de gaz de combustion ainsi que la quantité d'énergie libérée, est indispensable.
Fichier principal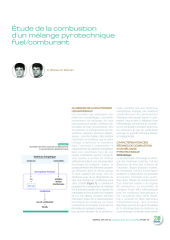 2010-473.pdf (130.82 Ko)
Télécharger le fichier
Origin : Publication funded by an institution