EGSISTES : Évaluation Globale de la Sécurité Intrinsèque des Systèmes de Transport En Souterrain
The objective of the EGSISTES (Global Evaluation of Intrinsic Security of Underground Transport Systems) project was the study of phenomena linked with global risk in underground transport infrastructures. The different kinds of dangerous phenomena linked with both accidental and intentional thread were identified during this project. Three families of phenomena have been enlightened: dispersion of R, B or C substances, explosion and fire. The study of those phenomena was achieved using both experimental and numerical approach. This paper is focused on fire and toxic product dispersion. The first part concerns the downstream smoke layer in confined configuration. In such a case, experiments show the quick degradation of tenability condition. Concerning toxic gases, both numerical and numerical approach show the difficulty in managing such a release to ensure safe conditions for users.
Le projet EGSISTES (Évaluation Globale de la Sécurité Intrinsèque aux Systèmes de Transports En Souterrain) avait pour objectif d'améliorer la compréhension des phénomènes physiques intervenant dans les scénarios de menace intentionnelle ou accidentelle. Les recherches réalisées pendant les trois ans du projet, tant sur le plan numérique qu'expérimental, ont permis d'obtenir une meilleure description de la physique des phénomènes dangereux et d'évaluer les modèles disponibles pour en prédire les conséquences. Ce document présente une partie des résultats obtenus. Une analyse des risques globaux pour les infrastructures souterraines de transport a fait ressortir trois phénomènes dangereux : l'explosion, l'incendie et la dispersion de gaz toxiques. Ces trois phénomènes ont été étudiés expérimentalement et numériquement au cours du projet . Ce document traite des aspects expérimentaux et numériques des phénomènes d'incendie et de dispersion de gaz toxiques. Les phénomènes d'explosion, dont l'aspect expérimental a été étudié par l'INERIS, ne sont pas discutés ici.
Fichier principal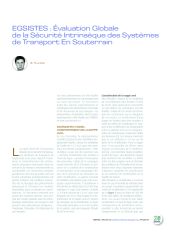 2010-475.pdf (130.08 Ko)
Télécharger le fichier
Origin : Publication funded by an institution